Saint Francis Expanding Services with New Facilities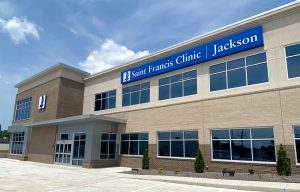 Saint Francis Healthcare System is expanding healthcare services across southeast Missouri in Jackson, Sikeston, Charleston, East Prairie, Scott City, Cape Girardeau and Poplar Bluff.
Saint Francis Clinic Jackson, located at 2130 E. Jackson Boulevard, opens Monday, August 9, and offers primary care, counseling services, onsite lab and imaging and extended urgent care hours on nights and weekends. The $7.5 million and 23,000 square foot new construction was one of the area's largest projects undertaken during the height of the pandemic. The new clinic brings all Saint Francis primary and urgent care services in Jackson under one roof in a beautiful, state-of-the-art facility that best meets the needs of patients and the Jackson community.
This week, Saint Francis closed on an 18-acre land purchase for the property located between Highway H and I-55 at Exit 67 behind the Drury Inn and Suites in Sikeston. Construction of a new facility will begin later this year, and open 2023. When complete, all services at Ferguson Medical Group in Sikeston will move to the new facility.
Saint Francis plans to expand primary and urgent care services with major building projects at the Ferguson Medical Group clinics in Charleston, East Prairie and Scott City, and at Saint Francis Clinic Kingshighway and Immediate Convenient Care in Cape Girardeau.
In Poplar Bluff, Saint Francis has expanded services and renamed its facility Saint Francis Medical Center Poplar Bluff, located at 225 Physicians Park Drive. The Medical Center in Poplar Bluff houses an Ambulatory Surgery Center, primary and specialty care, high-acuity urgent care with extended hours and onsite ancillary services such as lab, imaging and pharmacy. Additionally, Saint Francis Medical Center Poplar Bluff will provide counseling and physical therapy services.
The projects will create jobs and expand healthcare services to more residents across southeast Missouri.