The Gift of Life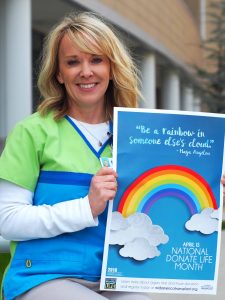 For Rhonda Robert, six new sign-ups made for a good Tuesday morning.
While she admitted that a half-dozen people might not sound like much for a registration drive, organ donor registration is different.
"When you think of what that could potentially mean, if those six people were to become organ donors, they could together save 48 lives," she said. "And if they were to become tissue donors, they could enhance the lives of 450 people."
As a nurse, advocate and mother, few are more familiar with the life-saving potential of organ donation than Robert. In 2014, her son, Kaden, died after suffering a traumatic brain injury. His organs saved five lives. That, Robert said, was an important consolation to her and her family after losing Kaden.
"It's hard to put a value on it; to explain it to other people," she said. "But it's such a gratifying feeling to know that because of [Kaden's donation] there are other families out there who will not suffer the grief and sorrow that our family went through. It does help with the grieving process to know we were able to find life through death for others."
After that experience, she said, advocating for donor registration became a priority.
"Whenever we were led on this journey, people were very positive about that decision, but there was also a lack of knowledge and understanding," she said.
So she's changing that; one sign-up at a time.
April is Donate Life Month, and Friday is National Blue and Green Day, paying homage to the colors of the cause.
"I find a lot of people are already registered donors. People tend to do it at the DMV," Robert said, but added that even people who are registered can still help out by advocating among their family and friends.
"Kaden and I had the conversation about four months before [his injury]," Robert said. "That's not typical, but the opportunity came up and me being a nurse, we were able to have that conversation."
Bringing up the conversation can be uncomfortable, especially to family members, Robert said, but should the occasion arise, having clear directives in place spares a great deal of heartache.
"Things happen unexpectedly," she said. "I tell even the people who sign up to go home and talk to their loved ones, because if they are not a registered donor, those decisions fall to the next-of-kin and it's the family who ends up having to bear that burden."
Robert said the ongoing registration drive represents an increased effort on the part of Saint Francis to raise awareness. "I'm grateful Saint Francis sees the value of what this campaign is about," she said. "They're very valuable as a partner. At Saint Francis, we're in the business of saving lives and donors are such an important aspect of saving lives in our community."
To learn more about organ donation, please visit midamericatransplant.org