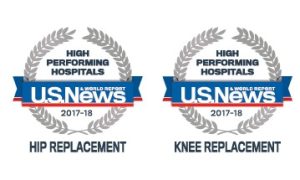 U.S. News & World Report named Saint Francis Medical Center a "High Performing Hospital" for both hip replacement and knee replacement, the only hospital in the region recognized with this designation. To earn this prestigious honor, Saint Francis' Center for Joint Replacement & Revision performed significantly higher than the national average in three key areas for both joint replacement procedures.
High Performing Hospital Methodology
Hospital rankings were based on demonstrated success in three healthcare-related areas:
Outcomes: measureable results of a program's patient care and quality-of-life improvement
Process: how well a hospital goes about its day-to-day care delivery through best practices
Structure: resources such as number of nurses, specialties, accreditations and certifications
"Our Center for Joint Replacement & Revision goes above and beyond for its patients," says Steven C. Bjelich, FACHE-D, President and Chief Executive Officer of Saint Francis Healthcare System. "To receive recognition like this is a testament to the talents of our orthopedic surgeons, state-of-the-art facilities, knowledgeable staff and program best practices."
To learn more about this Orthopedic Institute honor, call 573-331-3996.