Hesitant to travel due to inclement weather? Have a doctor's appointment, but no babysitter? Prefer to stay home during the pandemic?
Saint Francis Healthcare System has the solution: Virtual visits. You can now see any Saint Francis provider, including specialists and urgent-care physicians, from the comfort and convenience of your home, job site or office – virtually anywhere!
Covered by Medicare and most insurance companies, virtual visits are live video chats with your healthcare provider via a smartphone, tablet or laptop. Most visits are available the same day they are requested. Simply call your provider and ask to schedule a virtual visit or schedule your virtual visit online by going to MyChart.SFMC.net.
Benefits of Virtual Visits
Convenient access to healthcare providers from the comfort of your home, office or job site
No travel expenses
No time wasted in a waiting room
No exposure to other patients with potentially-contagious illnesses
No child or elder-care issues
Covered by Medicare and most insurance
Technology Made Simple
At Saint Francis, we know new technology can be daunting. That is why we have made virtual visits available using your choice of Apple FaceTime, Google Duo or WebEx and offer the following step-by-step instructions:
Apple FaceTime
How to use FaceTime to receive video calls on your Apple iPhone, iPad or iPod touch:
Make sure FaceTime is turned on. To do this, open the FaceTime app and sign in with your Apple ID or go to Settings, then FaceTime.
When the FaceTime call comes in from your healthcare provider, tap ACCEPT to take the call.
Google Duo
How to use Google Duo to receive video calls on your Android phone or tablet:
Make sure Google Duo is set up on your device. To do this, search Google Duo to download and install the free app.
Open the app to sign up.
You can connect to Google Duo using either your phone number or your Google account.
To connect using your phone number, enter your phone number and tap AGREE.

Google Duo will send a one-time code to your phone via a text message.
Enter this code in the app.

To connect using your Google account, tap AGREE.

If you already use Google Duo on another device, sign in with that same account to finish setting up the app.

When the Google Duo call comes in from your healthcare provider, tap ACCEPT to take the call.
WebEx
How to use WebEx to participate in video chats or phone calls without video:
You must have an email address to utilize WebEx.
You will receive a WebEx meeting invitation in your email similar to the one pictured below.
To participate in the video chat, simply tap JOIN on your computer or cell phone at the time indicated on the invitation.
To participate in a phone call without video, call one of the phone numbers listed on the invitation using a traditional phone at the time indicated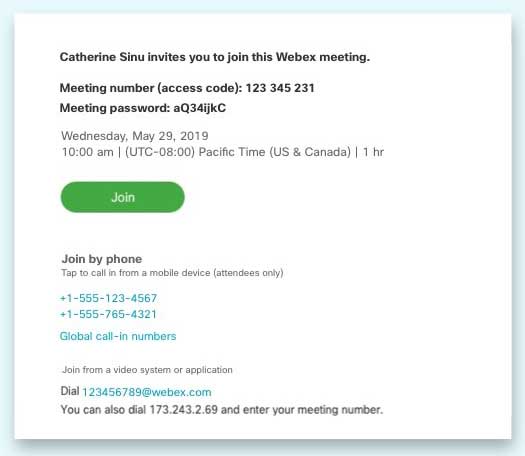 Preparing for Your Virtual Visit
If possible, test your device's video and audio prior to your appointment time.
Go to an area that is well lit and free from noise and distractions.
During your appointment, hold your device as still as possible. Consider resting or bracing the device on a stable surface or having someone hold it for you.
Keep the device at least two feet from your face and/or body to give your provider the best view possible.
---
Please note: Some restrictions may apply for non-Missouri residents. Depending on your internet service provider and/or cell phone carrier, some charges may apply.