March 28, 2018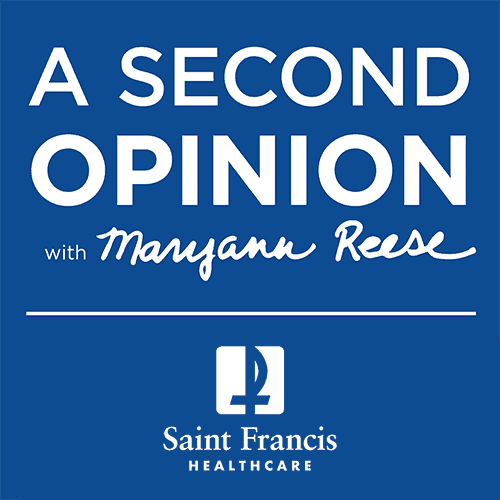 A preview of the upcoming Saint Francis Healthcare System podcast, "A Second Opinion" with Maryann Reese.
Submit your questions
Transcript
Maryann Reese:
Hello Saint Francis Family, and hello internet! I'm Maryann.
If you're rolling your eyes right now, that's fine. I don't blame you. But if you bear with me for just a minute, I can explain what we're doing making a podcast.
First off, we're not trying to top the charts here. I'm not going to ask you to rate us on iTunes. There will be no advertisements. This isn't that kind of program.
This one is just for employees of Saint Francis Healthcare System. Because as an organization, we're constantly adapting to changes and those changes directly affect you as employees.
As such, you deserve to know: one, what's going on; two, why a given change may be happening; and three, what it means for you in your day-to-day activities.
In the past, we've held forums to announce big changes, and while forums often lead to meaningful discussions, bringing employees in like that is a cumbersome process. So much so that forums end up only being called for the most extreme issues.
Everything else got done through an email or our newsletter.
We've decided to try something new. Several things, actually, including more frequent video content to help us recognize the great things happening at Saint Francis and to help keep everyone in the loop.
But our hope with regard to this podcast is that it will allow us to take that forum-style content and deliver it in a way more suited to your convenience.
We'll give a short recap of the most important health system news and address any questions submitted by you, but the bulk of the show will be zeroed in on one issue in particular. Each episode, we'll discuss that most pressing topic with someone who knows what the backstory was and what the impact might be in the future.
You deserve to be up to speed on things. That's what this project is: context if you need it, from people in the know.
If you're curious about anything going on at Saint Francis, you're more than welcome to stick around. Or shoot us a question in an email to the Bright Ideas folder at brightideas.sfmc.net.
If podcasts don't do anything for you, we're working on other communication avenues as well.
Thanks for listening.
Until next time, I'm Maryann, and adios.

Share This Page: