September 10, 2018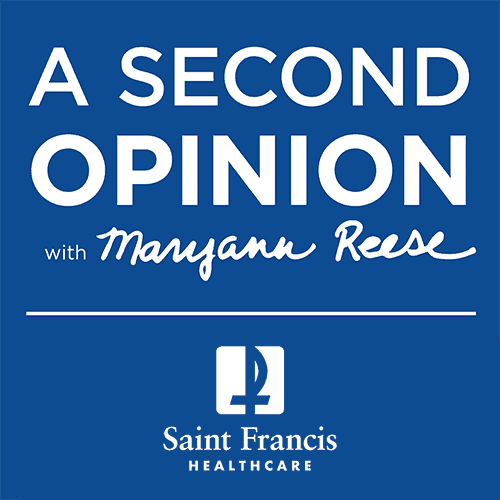 Episode two discusses our stellar quality and safety, and all the things Saint Francis does to make sure we are providing best-in-nation healthcare.
Submit your questions
Transcript
Welcome back to "A Second Opinion" with me, Maryann Reese. Today I would like to talk to you about our stellar quality and safety and all the things Saint Francis does to make sure we are providing best-in-nation healthcare.
As a nurse, I know it's a privilege to care for patients. They trust us with their lives, and this is the reason I take quality and patient safety so seriously.
First I would like to talk about some of the ways we measure our quality and safety and then I will talk about how we keep improving.
Sound good? Well, I didn't hear anyone object — so here we go!
Every hospital is scored by a company called Leapfrog. This is a score that businesses use to determine hospital's quality and safety. This score is a letter grade for our patients safety.
I am proud to say that in three years we have moved from a "D" to a "B," and we are so close to an "A."
I want to tell you all a story about a patient — let's call her Jane. Jane came into a hospital after a car accident. The doctors wanted to keep her overnight, and while she was there, she started having severe cramping, nausea, and diarrhea. Jane began to tell the staff, and Jane felt like they were not taking her seriously.
After a few days passed and Jane got worse, they tested her and found she had developed Clostridium difficile, more commonly known as C. diff. This severe inflammation of the colon can quickly cause dehydration which can affect Jane's blood pressure, kidney function, and her overall health.
This disease could have been earlier detected if there was a process in place to test early for C.diff.
I won't say what hospital she used, but I will tell you, Saint Francis, as of 2016, has a process in place!
At Saint Francis, we are focused on keeping our patients safe and healthy. Hospital-acquired conditions or HACs affect a patient while staying in a hospital or medical facility — much like Jane's story of developing C. diff.
It is sad, but true that when you come to a hospital for medical help, you could be at risk of developing another sickness.
We want to prevent that.
Our colleagues have made great strides in addressing these HACs. Designing care for our patients has helped us go two years without a penalty from CMS. CMS is the acronym for the Center for Medicare and Medicaid Services; basically, it's the federal government!
Speaking of CMS — let's look at financial reimbursement, shall we?
This the way CMS pays for quality and safety — it's on a continuum. Those hospitals that do well in quality and safety get a bonus, and those hospitals that do very poorly in patient safety and quality are penalized.
Those that are penalized pay that money through CMS to those hospitals that do well. If your average in quality and safety you don't lose money, and you don't gain money; you get the reimbursement that you've always gotten.
There is no new money in the system those that do poorly have to give that money to those that do well.
I am proud to say that not only have we received the money that's owed to us by CMS, but we have done so well that we have actually gotten bonuses based on our quality and safety.
There are so many things I am proud of that is definitely one of them.
How did we do this? We're a culture that designs care, we don't just "let it happen."
We have a culture of transforming acceptable care into exceptional care.
I'll give you an example — 2-5 percent of patients nation-wide get a surgical site infection. Our infection rate was 1.5 percent, pretty good until we said we're going to design acceptable care into exceptional care. Now our infection rate is 0.3 percent —that's probably the best in the country.
Saint Francis participates in the Merit-Based Incentive Payment System referred to as MIPs — that's a mouthful, leave it to CMS.
This is a value-based payment program tied to our outpatient quality and cost, on the physician side. The focus there is to improve the health of our community by ensuring chronic disease management and preventative care needs are met.
Again, since implementing this program in 2017, Saint Francis Medical Partners not only avoided penalties, but we had a positive payment adjustment, or we are getting more revenue because of the quality, exceptional care that we provide in our physician offices.
Our goal is higher quality patient care and lower cost!
These great outcomes are only a few of the results that demonstrate how we're keeping our patients top-of-mind.
We never want to slow down — giving excellent care at a great value is what we are called to do.
With the help of all Saint Francis colleagues, we are able to continue improving quality and patient safety.
Here is where I need your help!
We are once again participating in the Hospital Survey on Patient Safety, and this tool will guide us in improving our safety and eliminating preventable harm.
How do we do that? Well, the answer is simple. We need our colleagues feedback. I ask you; please take the survey.
Your input helps us to continuously improve.
Your responses are anonymous and are taken very seriously.
I'm so proud of the excellent care we give our community, and I am always looking forward to the good yet to be.
The survey is open now through September 23. Please, let your voice be heard and help us impact our patients lives for the better.
Thanks for joining me today to learn how Saint Francis is continually looking for ways to improve quality and safety.
Until next time, this is "A Second Opinion" with me, Maryann.
Adios!

Share This Page: