Health Management Resources® Recognized by U.S. News & World Report for Third Year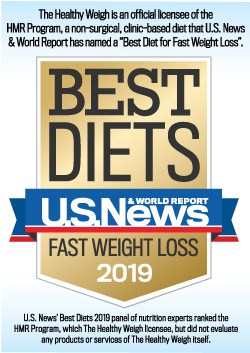 Health Management Resources® (HMR) is ranked as the number one Best Fast Weight-Loss Diet for four consecutive years according to the U.S. News & World Report's Best Diets. HMR was also named the No. 1 Best Fast Weight-Loss Diet, and No. 4 Best Weight-Loss Diet, in 2017.
HMR Programs focus on helping people lose weight quickly while teaching the healthy lifestyle skills needed for long-term weight management.
Saint Francis has offered the HMR Program for eight years to community members in Southeast Missouri and beyond who are interested in losing weight fast and keeping it off.
Best Fast Weight-Loss Diets is based on short-term weight-loss ratings.
Best Weight-Loss Diets was generated by combining short-term and long-term weight-loss ratings, weighting both equally. Some dieters want to drop pounds fast, while others, looking years ahead, are aiming for slow and steady. Equal weighting accepts both goals as worthy.
Lose Weight and Live Better…The Healthy Weigh
The Healthy Weigh is a medically supervised weight-loss program that incorporates diet solutions from Health Management Resources® (HMR) to teach participants how to:
Lose weight safely
Keep pounds off
Improve overall wellness through healthy eating and physical activity
The Healthy Weigh program can be customized for those looking to lose anywhere from 10 to 100 or more pounds!
Attend a free orientation session for more information and to sample our wide selection of food, beverages and meal replacements. Call 573-331-5686 to reserve a spot today!
About Health Management Resources
HMR is the leading provider of medically based weight management programs in clinics, hospitals and medical centers throughout the country. Many good things come with joining an HMR program, including:
An easy-to-follow meal plan
Tasty, nutritional full-course entrées
Weekly coaching from an HMR health educator
Filling snack choices
Delicious recipe suggestions
Meal replacements like shakes and bars
Helpful HMR Calorie System℠ tools
Successful short- and long-term results
Effective cost savings on an overall food budget
The HMR In-clinic Program is offered in prestigious medical centers across the country and is the most respected and effective. It is scientifically based and promotes fast, maximum weight loss and better health.
There is also an HMR at Home® Program. Participants in this program enjoy:
Great savings on HMR Health Solutions Quick Start® diet kits
Automatic kit delivery every two weeks for uninterrupted weight loss
Detailed, step-by-step "how-to" dieting materials with first kit order
Free customer service calls to answer any questions at any point during the diet
Learn more about HMR at Saint Francis Medical Center
Success Stories
Read about how the Healthy Weigh has helped change the lives of participants
FAQs
How much does the program cost?
The cost of the program depends on a few things: how much weight you have to lose, which diet option you choose, and any medical supervision you may need. The basic cost of the program is $25/week for your weekly classes and midweek support. In addition, you will be purchasing HMR Shakes and pre-packaged meals as your food on the diet. The cost for shakes and meals averages about $12-15 a day. This is in place of other foods, and many people find they actually save money on food while in the program. At the informational session we will break down the cost of the program once you know which diet you would like to use and if you will require medical supervision.
How is HMR different from other diet programs?
The biggest difference between the HMR program and other diets is the results that HMR produces. The HMR Program has the best published weight-loss data of any ongoing weight-loss program. As a result, it is the No. 1 program used by physicians in major medical centers throughout the United States. The program is based on over 25 years of research and testing and is staffed by highly trained healthcare professionals, so we can give you the highest quality support. We help you lose weight AND focus on the skills that can help you keep the weight off long-term.
How does the HMR Program work?
The goal of the program is to help you incorporate simple lifestyle changes to lose weight and keep it off for a lifetime of better health. The program diets are highly structured to make it easier for you to lose weight. The diets use HMR Shakes, HMR Entrées, HMR Multigrain Hot Cereal and HMR BeneFit® Bars, which are used in place of meals and snacks. Research shows that structured diets using meal replacements are the most successful for weight loss and long-term weight maintenance. Trained HMR professionals provide practical support through weekly group sessions and individual phone contact.
What are HMR weight-loss foods?
HMR weight-loss foods are healthy and delicious "fast" food. Our line of foods includes packaged entrées (such as Lasagna with Meat Sauce and vegetarian Mushroom Risotto), shakes, puddings, soup, multigrain cereal and nutrition bars. All HMR weight-loss foods are low-calorie, high-nutrition, and portion-controlled to support your weight-loss goals. They are used in place of higher-calorie foods, making it easier for you to lower caloric intake while maintaining good nutrition.
How will this program help me keep off the weight once I lose it?
Long-term weight management can sometimes be the most difficult part of weight loss. We have two phases of the program. Phase one will help you reach your weight-loss goal as quickly as possible. In phase two we will help you learn about healthy foods and how to maintain a healthy lifestyle so you can keep your weight off.
Other Weight-loss Programs at Saint Francis Medical Center
Exercise is Medicine™
Exercise is Medicine is an eight-week program that offers pre- and post-assessments, structured resistance and balance training, as well as nutrition and health-risk reduction education. Clients are entitled to three weekly sessions for eight weeks, as well as use of Fitness Plus on class days. Sessions are held in the Health and Wellness Center at Saint Francis.
Fitness Plus members: $69
Nonmembers: $99
---
Contact
Saint Francis Health and Wellness Center
150 S. Mount Auburn Road, Suite 344
Cape Girardeau, MO 63703
573-331-5686
You May Also Contact Us by Filling Out the Form Below: