Saint Francis Director Praises Rapp for Excellent Orthopedic Care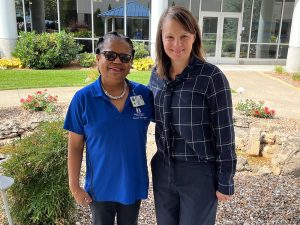 When pain or dysfunction affects our mobility, it can keep us from doing the things we love most. Asha Faulkner, Director of Food and Nutrition Services at Saint Francis Healthcare System, began to notice pain and a decline in mobility in her shoulder following an accident in 2021. The pain was keeping her from working, her favorite pastimes and daily tasks. When Faulkner sought the care of Catherine Rapp, MD, MBA, FAAOS, orthopedic surgeon at Advanced Orthopedic Specialists, a Saint Francis Medical Partner, she made the life changing decision of arthroscopic rotator cuff repair surgery.
Faulkner's journey began at Saint Francis Clinic Kingshighway where an MRI indicated a potential need for surgery. She was then referred to Rapp at Advanced Orthopedic Specialists. "I was able to see Dr. Rapp right away," Faulkner recalled. "I really liked her because she was very detailed about what my options were if I did not do surgery. She did not force me and let the decision of surgery be my choice."
Faulkner acknowledged Rapp's personalized approach to her treatment plan based on her job duties at work. "Although I am a director, I am not a 'sit in the office' kind of person," Faulkner explains. "I could be in the dish room, on the service line or in the catering area at work. It is very important for me to help and be involved." Rapp learned Faulkner's pastimes as well when creating her treatment plan. "I spend a lot of time at the gym and I bake every day," Faulkner said. "Before deciding on surgery, it was important to me to know how long it would take before I could do those things normally again." Ultimately, with Rapp's personalization, detailed explanations and transparency, Faulkner decided to move forward with surgery.
"I was able to schedule my surgery in less than three weeks," Faulkner said. "Dr. Rapp helped me decide when the best time would be for my surgery to accommodate future travel plans that I had." Faulkner recalls the emotions and uncertainty the day of her surgery. "I was very emotional because it was the year anniversary of bringing my dad in for surgery and he passed here at the hospital," Faulkner shared. "Dr. Rapp knew how emotional and uncomfortable this particular surgery was for me but when she came to my room, she talked to me, gave me a hug and told me everything would be okay. I trusted her, and she and the staff did their best to make me feel so comfortable." Faulkner was able to have the procedure done and return home shortly following the surgery. The day after surgery, she received a phone call from Rapp. "She called me to check how I was doing and talked me through some side effects I may feel as the medication wore off," Faulkner recalled. "Through the healing process, she has always made it clear I could call her anytime if I needed anything."
Faulkner completed physical therapy sessions three times a week for six months following her shoulder surgery. "We have excellent therapists in our Outpatient Rehabilitation department," Faulkner exclaimed. "The physical therapy really helped me recuperate and return to work." She continues to do her exercises on her own to contribute to her recovery. "If you are consistent with your therapy and exercises it will turn out just fine and is absolutely worth it," Faulkner says.
Faulkner encourages anyone who may need an orthopedic surgery to go for it. "Do not wait; it is not as bad as you think," Faulkner advises. "It is absolutely worth it. Although I am still healing, it is a big difference compared to the pain that used to keep me from doing daily tasks or keep me up at night."
As a registered dietitian and someone who understands the clinical side of healthcare, Faulkner commends Rapp for her excellent communication. "She explains everything in such great detail, and that is something that really touched me and stood out to me," Faulkner praises. "She made me very comfortable." Faulkner recommends Rapp to all who seek orthopedic care for her kindness and dedication to her patients. "I tell everybody about that woman; she is excellent," Faulkner exclaims. "She is personable, caring and wants to really get to know you before she performs surgery which makes a big difference."
---

Advanced Orthopedic Specialists at the Saint Francis Orthopedic Institute provides you with the freedom you desire and the trusted care you deserve. Patients can easily access a full range of treatments for orthopedic injuries and conditions of the ankle, elbow, foot, hand, hip, knee, shoulder and wrist. Our goal is to get you back on your path to a better quality of life. To make an appointment with Dr. Rapp or any of our skilled orthopedic providers, call 573-335-8257 or learn more at sfmc.net/ortho.