Virtual Visits from Saint Francis Healthcare System are for more than just cold and flu symptoms or even a basic checkup. You can schedule a virtual visit for services throughout our Healthcare System, including our specialty and urgent care providers. This personalized care option helps you stay in touch with your doctors and up-to-date with your health – from anywhere!
Please do not hesitate to schedule an appointment when it comes to maintaining your good health.
You can now request a virtual visit with your primary and specialty care provider at any Saint Francis Medical Partner location. A virtual visit allows you to have a medical consultation with a healthcare provider using live video chat from the comfort of your home. All you need is a smartphone, tablet or personal laptop with webcam along with a high-speed broadband internet connection. The broadband connection needs to be strong enough to support high quality video streaming.
Some platforms available are Apple FaceTime, Google Duo and Webex:
Apple FaceTime
Learn how to use FaceTime to make video and audio calls from your iPhone, iPad, or iPod touch.
You can use FaceTime over Wi-Fi or over cellular on supported iOS or iPadOS devices.
Turn on FaceTime
Open the FaceTime app and sign in with your Apple ID. You can also do this from Settings > FaceTime.
If you're using an iPhone, FaceTime automatically registers your phone number. To also register your email address on your iPhone, go to Settings > FaceTime > Use your Apple ID for FaceTime, and sign in with your Apple ID.
If you're using an iPad or iPod touch, register your email address by tapping Settings > FaceTime > Use your Apple ID for FaceTime, and sign in with your Apple ID.
Make a FaceTime Call
To make a FaceTime call, you need the person's phone number or registered email address. There are a few ways to make a FaceTime call:
In the FaceTime app, tap the plus button and type the person's phone number or email address. Tap the number or address, then tap the Audio (phone) or Video icon.
If you have the person's phone number or email address saved in your Contacts, you can start typing their name and tap the name when it appears. Then tap the Audio (phone) or Video icon.
You can also start a FaceTime video call from your iPhone during a phone call. Tap the FaceTime icon in the Phone app to switch to FaceTime.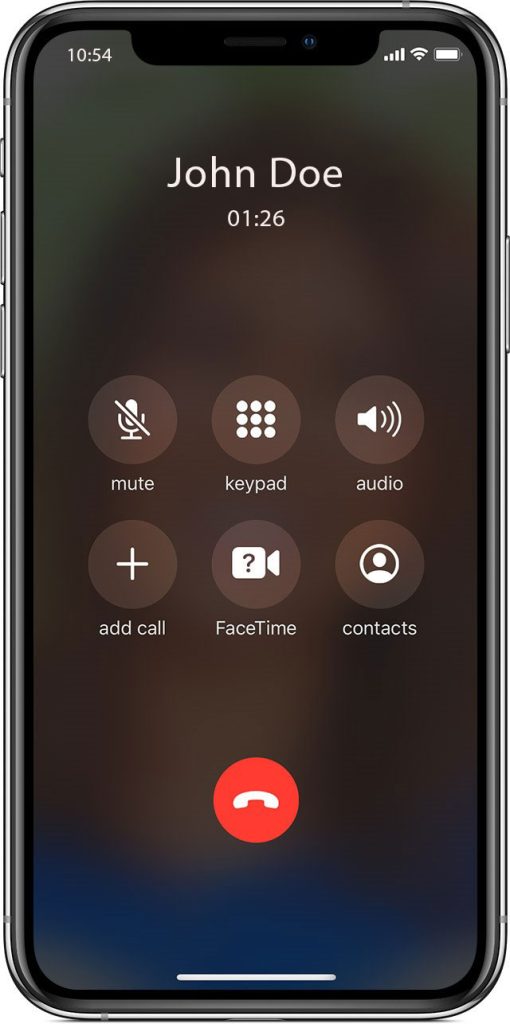 Use FaceTime Audio with Call Waiting
When another call comes in — either a phone call or another FaceTime audio call — you can choose one of these options:
End the current call and accept the incoming call.
Accept the incoming call and put the current call on hold.
Decline the incoming call.
Google Duo
Set up Google Duo
You can use Duo to call your family, friends, and anyone else who uses the app.
Download and Install Duo – Duo is available on Android phones and tablets. When you sign up, you'll get a verification code on your phone.
Verify your phone number – You can skip phone number verification. If you skip this step, you have to connect to your Google Account.

On your Android device, enter your phone number and make sure it's correct.
Tap Agree.
Duo will send a code in a one-time SMS message to the number that you entered. (Carrier text-message rates may apply.)
Enter the code that you received in the text message.

If you don't receive a text message, tap Resend SMS.
If you have a cell connection and aren't getting the SMS, request a call by tapping Call me.

Connect your Google Account

To connect your Google Account, tap Agree.
If you already use Duo on another device with your Google Account, sign in with the same account to finish setup.
After you connect Duo to your Google Account

You can use Duo across different devices.
People with your phone number or Google Account info, like your Gmail address, can see that you use Duo and call you using the app.
After You Verify Your Number on Duo
People with your phone number can see that you use Duo and call you using the app. If you connect your Google Account, they can also connect with you across Google services.
Duo can periodically send your contacts and location to Google.
If you call someone not saved in your contacts, Duo will display your phone number so they can see who's calling.
Use Duo to Call Your Contacts
Video calls with anyone in your contacts who uses Duo: Call friends and family across different devices like Android, iOS, computers, Google Home Hub, Lenovo Smart Display, and JBL Link View.
High quality audio and video: Your call's quality automatically changes, based on your connection.
Knock Knock: You can see a live video preview before answering a call from one of your contacts.
End-to-end encryption: Your calls are secure and can only be seen by you and the person you're talking with.
WebEx
If you get a meeting invitation in your email, you can use it to join your meeting in different ways, like from your computer, mobile device, phone, or video system. Your invite includes the options available to you for that particular meeting. Example WebEx invitation: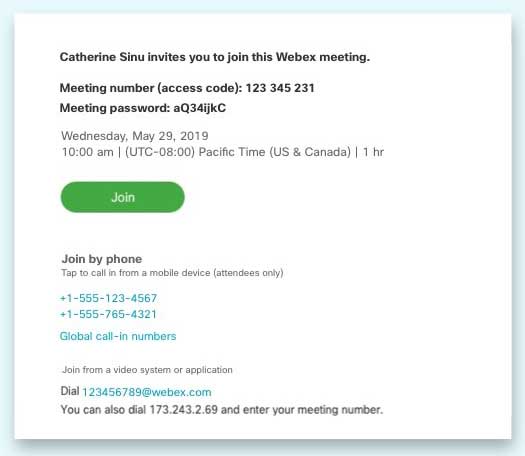 For your convenience, choose however you'd like to join the meeting from your computer, mobile device, or traditional phone. Choose the option that's best for you.
Join from Your Computer or Mobile Device
Click the green "Join" button to join the meeting from your computer or mobile device. After you join, you can see everyone in the meeting, shared content or share our own video and content.
Join from Your Phone
Call one of the numbers within the WebEx invite's "Join by phone" section. This is a good option if you aren't connected to a network for video. After you join, you can hear everyone talking in the meeting but not their video or content that they're sharing.
---
Most virtual visits can be performed on the same day they are requested. Virtual visits can be for routine care and some urgent care conditions. It's an easy way to consult with your health care provider while reducing wait times. During this COVID-19 National Emergency, virtual visits are now a covered benefit by Medicare and most insurance companies. Call your primary and specialty care provider office to speak with a nurse and schedule your virtual visit today.
COVID-19 is thought to spread mainly from person-to-person. Below are some steps to help protect yourself and others.
Wash your hands with soap and water frequently
Use hand sanitizer if soap and water are not available
Avoid touching your, eyes, nose and mouth
Avoid close contact with people who are sick
Practice social distancing. Keep distance between yourself and other people (at least 6 feet)
Stay home if you are sick
Cover coughs and sneezes with a tissue or the inside of your elbow. Throw used tissues in the trash and wash your hands immediately
Clean and disinfect frequently touched surfaces in your home
Call the healthcare facility prior to arrival if you need medical attention
Thank you for helping prevent the spread of COVID-19. STAY HOME AND WASH YOUR HANDS!
Benefits of Virtual Visits
Access to primary care providers and specialists from the comfort of your home
Less chance of catching a new illness
Allows you to receive care closer to home
Reduces travel costs for patients
Less time in the waiting room
Eliminate child or elder care issues
Many insurers, including Medicare and commercial insurance companies cover the cost of Virtual Visits
Your Virtual Visit
If possible, test the video and audio and / or software prior to your visit on the device you'll use to connect.
Go to an area that is well-lit and free from noise and distractions.
During your appointment, hold your device as still as possible. Consider resting or bracing the device on a stable surface or have someone hold it for you.
Keep the device ~2 feet from your face and body to give your provider a clear view and to assist with diagnosis.
---
Please note that some restrictions may apply for residents in states other than Missouri.