Michelle and McKensi Williams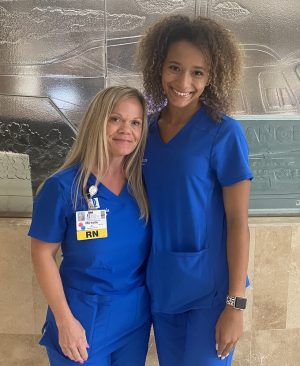 Michelle and McKensi Williams
At Saint Francis, we are a family – sometimes, in more ways than one. Meet the mother-daughter duo at southeast Missouri's only Level III Emergency and Trauma Center at Saint Francis Medical Center: Michelle and McKensi Williams.
Meet Mom Michelle
Michelle Williams has been a registered nurse in our Emergency Department for more than twenty years. She was very excited when her daughter McKensi decided to join the Saint Francis Family as a patient care associate in June.
Meet Daughter McKensi
Following in her mother's footsteps, McKensi Williams recently graduated high school and plans to attend Southeast Missouri State University in the fall to pursue a degree in nursing. She credits her career goals in healthcare to her mother, who served as a positive role model as McKensi grew up. Seeing her mother work in the Emergency Department at Saint Francis inspired McKensi to join the same team as she studies to become a nurse.
When asked about their favorite part of working in the Emergency Department, both acknowledged the great teamwork within the department. Michelle adds, "It is always something different. After being her twenty years, I still learn something new every day."
Although the mother-daughter duo has not worked many shifts together, they enjoy seeing each other in the workplace. Michelle adds, "Some of my coworkers were here with me when I was pregnant with McKensi, so it is fun to see everything come full circle."