You Can Make a POWERFUL Difference…Now More Than Ever!
The Power of One Campaign is BACK from May 18 to June 15, 2022
The Power of One Campaign invites members of our Saint Francis Family to make a powerful difference in our community by supporting the Saint Francis Foundation. Your contributions through this campaign assist our colleagues, patients and communities in a variety of meaningful ways. This year, the need is great and you always amaze us with your generosity.
Each tax-deductible dollar you contribute to Power of One makes a powerful impact — offering care, compassion and support when it is needed most. Plus, each donation is eligible for a different prize!
REMEMBER: Your contribution may be through payroll deduction, one-time contribution, check, credit card or earned time off (ETO). This is the ONLY colleague-giving campaign. Pledges must be received by June 15, 2022, and payroll deductions will begin July 7, 2022.
Direct your donations to the fund/s that appeals to you. You may choose your favorite fund or split your donation between up to four choices! Your donation, your choice. Read on to learn more about our different funds and how they are making difference.
Why Donate to Power of One?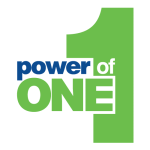 When you participate in the Power of One Campaign, you are living out the Mission of Saint Francis Healthcare System. 100 percent of your donation results in an expression of love and support for our colleagues and patients in times of hardship.
Your gift can be earmarked for the fund you feel most passionate about!
Choose Parents With Hope if you want to help families with babies in the Level III Neonatal Intensive Care Unit
Choose CancerCare if your family has been impacted by cancer
If you like helping your colleagues – choose the Caring Fund
If your heart is with patients with little means and great needs – choose the Sister Esther Fund
Or choose Area of Greatest Need, allowing the Foundation to respond to unmet needs and emergencies that fall outside the restricted funds
Your Power of One gift will make a difference in the lives of others, giving them hope and a hand when they need it most. Last year alone provided many great examples of impact that would not happen without your support, including:
Nearly 1500 meals and 550 room nights provided for families with children being cared for in our amazing Level III NICU
More than $73,000 given to patients in need through medicine, medical equipment, transportation, clothing and lodging through the Sister Esther Fund
$82,629 of support given to 48 different colleagues in times of crisis through the Caring Fund
More than 2800 patients and their families received treatment, medicine and other necessary services through the CancerCare and CardiacCare funds combined
When you support the Power of One Campaign, Saint Francis Foundation can demonstrate the Power of ALL our colleagues by extending healing and comfort to those that need it most. We need YOU. Each donation to Power of One, big or small, is significant and makes a powerful difference in the lives of so many.
Please consider a generous contribution and experience the blessing of giving. Your support is deeply appreciated!
Power of One Funds
Area of Greatest Need – This general fund distributes gifts where they can do the most good.
CancerCare – Helps cancer patients in need with lodging, transportation, medicine and more
CardiacCare – Helps heart patients in need with cardiac rehabilitation and other supplies
Caring Fund – Helps colleagues with unexpected emergencies and unplanned life events, such as memorial, disaster and financial emergencies
Chapel – Assists in maintenance of the chapel and chapel supplies
Hospice – Assists hospice patients and families in need with medicines, supplies and items of comfort
Parents With Hope – Assists parents with infants in the Level III Neonatal Intensive Care Unit with transportation, meals and lodging.
Sister Esther Fund – Assists Saint Francis patients and families in need with transportation, clothing, lodging, necessary medicines and medical equipment.
Community: Catholic Charities of Southern Missouri – Serves community members in need through disaster recovery, homeless prevention services, developmentally disabled services, mental health, family counseling and more.
Your Donations at Work
Your donations make a POWERFUL Difference in the lives of our patients, colleagues and communities we are called to serve. Watch the video above to learn how the Caring Fund helped colleagues Isiah Marks and Courtney King, the CancerCare fund helped patient Jo Ann Summerlott and how colleague Mary Schultz sees the Sister Esther and Caring Funds in action daily.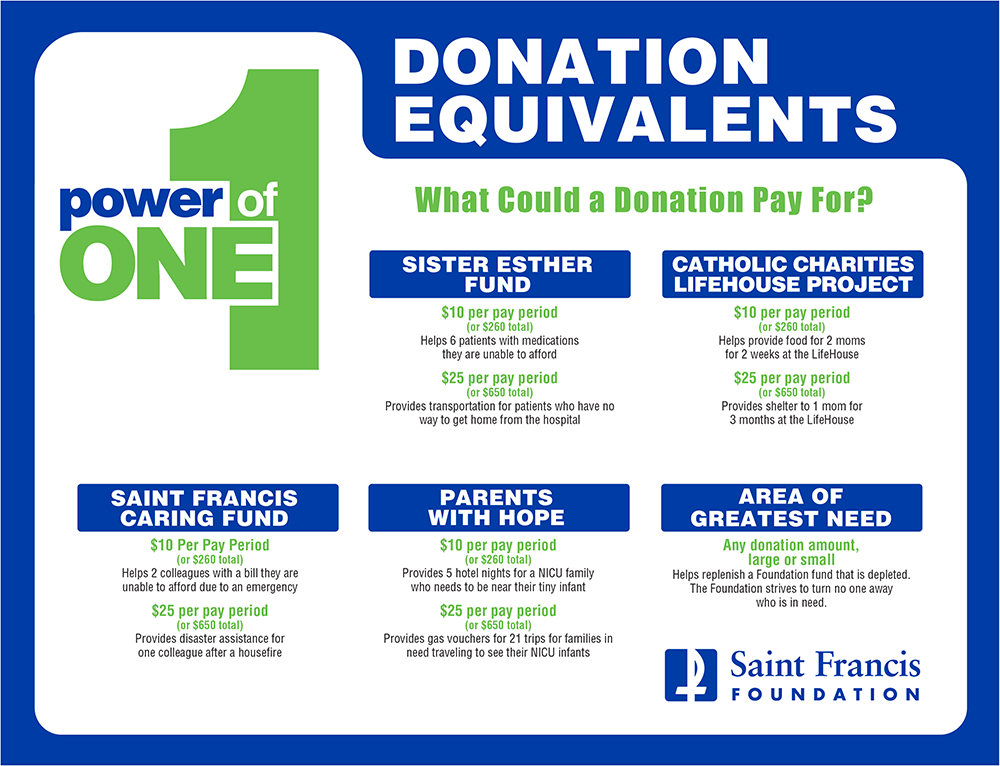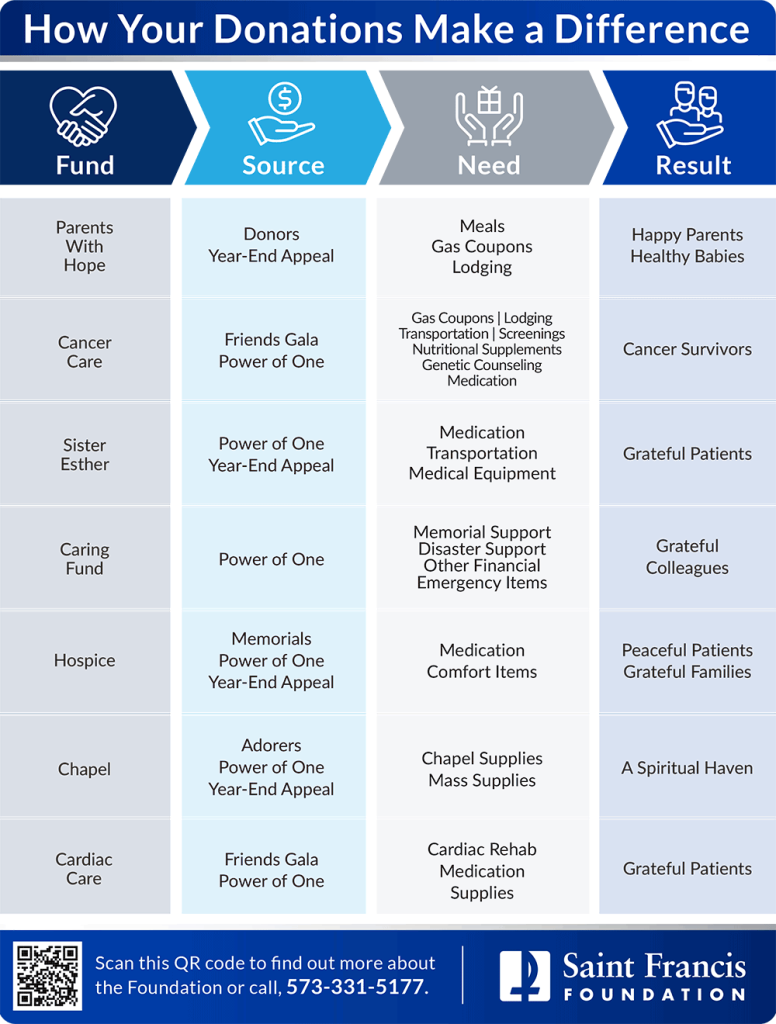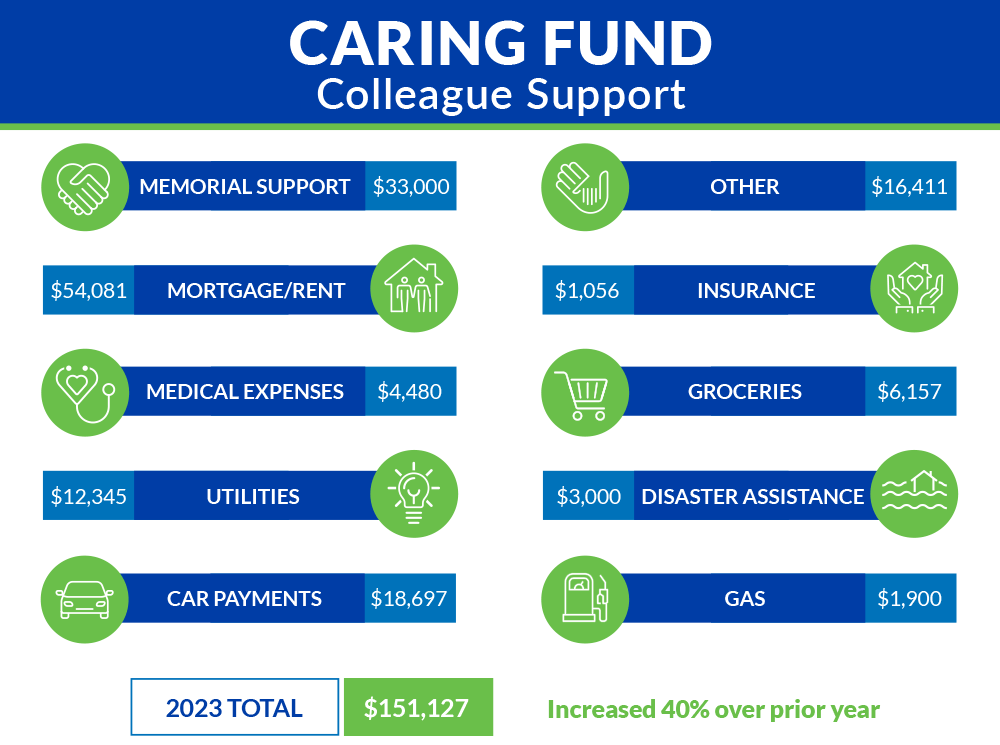 Testimonials
Caring Fund Recipient Isiah Marks
Sister Esther and Caring Funds with Mary Schultz
Caring Fund Recipient Courtney King
CancerCare Fund Recipient JoAnn Summerlott
Other Testimonials
"The Caring Fund was able to help me make a house and electric payment when I had nowhere else to turn. The past few years have been difficult on so many people; just one missed paycheck during the pandemic had snowballed into final notices several months later. The Caring Fund was very graciously willing to help my family and me in our time of need, and I will forever be grateful. Not everyone has the opportunity to work for an employer that has such wonderful, giving employees that are willing to help their colleagues. To anyone who may think that the Caring Fund is not worthy of your donation, please reconsider. You never know when you will need help, and the Caring Fund will be there to help you, too!"
"I am just grateful for the Saint Francis Foundation and everything they have done. It means a lot to have that kind of support. I cannot explain it. It is amazing that these funds are available to anyone who needs it. I will give from now on, and I encourage anyone else who can to do the same. Something could happen to you or your family, and you might need that help someday. I am grateful for this program and the help it provides to our Saint Francis Family."
"I appreciate everything."
"I cannot begin to tell you how much of a blessing that this organization is and how many lives you have touched. [The Caring Fund] was an angel to many of us."
"Thank you once again for your attention and help on this – I am speechless."
"Thank you for your generosity during these trying times, it has helped me tremendously and has taken a burden off my plate! I truly appreciate it so much and am so blessed that I received the assistance. Thank you so much!"
2022 Power of One Prizes
Week 1
| Prize | Provided By |
| --- | --- |
| Tickets to Holiday World & Splashin' Safari | River Radio |
| WWE Live at the Show-Me-Center on June 11 – Tickets & VIP Parking Pass | Saint Francis Healthcare System |
| Logan's Roadhouse Gift Card | Logan's Roadhouse |
| Rosati's Gift Card | Drury Southwest |
| 6 Month Online Subscription to the Standard Democrat | Standard Democrat |
| Polar Camel 20 oz Tumbler Navy Blue | Treetop Enterprises |
| Marcus Theatres Gift Card | Marcus Theatres |
| Lambert's – Sikeston Gift Card | Drury Southwest |
| Chick-fil-A Gift Card for Free Chicken Sandwich or 8-piece Nugget Meal | Drury Southwest |
| Twist and Chill Fan with Lanyard | 4imprint |
| Journal/Notebook | Healthgrades |
Week 2
| Prize | Provided By |
| --- | --- |
| St. Louis Cardinals Tickets – Friday, June 10 at Busch Stadium vs. the Cincinnati Reds | Merrill Lynch |
| Harlem Globetrotters at the Show-Me-Center on December 13 – Tickets & VIP Parking Pass | Saint Francis Healthcare System |
| J Street Brew Co – Perryville Gift Card | Drury Southwest |
| Marcus Theatres Gift Card | Marcus Theatres |
| Polar Camel 20 oz Tumbler Navy Blue | Treetop Enterprises |
| Lambert's – Sikeston Gift Card | Drury Southwest |
| Chick-fil-A Gift Card – Free Chicken Sandwich or 8-piece Nugget Meal | Drury Southwest |
| Easy View Dry Bag with Water Bottle | 4imprint |
| Igloo Cooler Bag | Healthgrades |
| Drawstring Sportpack | 4imprint |
Week 3
| Prize | Provided By |
| --- | --- |
| Lee Brice Concert at the Show-Me-Center on September 15 – Tickets & VIP Parking Pass | Saint Francis Healthcare System |
| Robert Trent Jones Golf Trail Passes | KFVS12 |
| Rosati's Gift Card | Drury Southwest |
| 6 Month Online Subscription to the Standard Democrat | Standard Democrat |
| Rtic 30 oz Tumbler Graphite | Treetop Enterprises |
| Marcus Theatres Gift Card | Marcus Theatres |
| IceShaker 26 oz with Straw Black/White | Treetop Enterprises |
| Lambert's – Sikeston Gift Card | Drury Southwest |
| Chick-fil-A Gift Card – Free Chicken Sandwich or 8-piece Nugget Meal | Drury Southwest |
| 26 oz Water Bottle | 4imprint |
| Aluminum Water Bottle | Healthgrades |
Week 4
| Prize | Provided By |
| --- | --- |
| Free Gas at Rhodes 101 Convenience Stores for a Year (up to $2,400) | Saint Francis Foundation |
| Apple Watch | Spectrum |
| J Street Brew Co – Perryville Gift Card | Drury Southwest |
| Clothing Item with Saint Francis Embroidered Logo | Horizon Screen Printing |
| Marcus Theatres Gift Card | Marcus Theatres |
| Polar Camel 30 oz Tumbler Arctic Blue | Treetop Enterprises |
| PowR Stand Wireless Charging Stand | Treetop Enterprises |
| Lambert's – Sikeston Gift Card | Drury Southwest |
| Chick-fil-A Gift Card – Free Chicken Sandwich or 8-piece Nugget Meal | Drury Southwest |
| Sip & Flip 24 oz Aluminum Bottle | 4imprint |
Foundation Support Staff
Jimmy Wilferth
Vice President – Foundation and Marketing
573-331-5124
jwilferth@sfmc.net
---
Stacy Huff
Executive Director
---
Wyky Jean
Director – Development and Diversity/Development Coordinator
---
Laura Propst
Senior Development Officer – Foundations and Annual Giving
---
Cheryl Seabaugh
Boutique Coordinator
573-331-5489
cseabaugh@sfmc.net
---
Rebecca Rose
Foundation Assistant
---
Teresa Lukefahr
Volunteer Coordinator