Foundation News
Saint Francis Foundation and the Saint Francis Auxiliary awarded a total of 23 healthcare scholarships to local students in July. Stacy Meyer was awarded the Steven C. Bjelich Executive Scholarship. The scholarship is available to graduate students pursuing a Master's...
The Saint Francis Foundation Power of One colleague-giving campaign exceeded its goal, raising a total of $208,000. Money raised through Power of One helps meet areas of need for patients of Saint Francis Healthcare System and their families, colleagues and...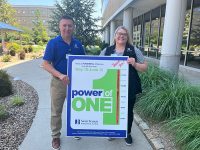 The Saint Francis Foundation has received a $10,000 grant from the American Cancer Society (ACS) to provide transportation for cancer patients in need. The grant will underwrite gas cards and car service rides for eligible patients who face transportation barriers...
The Friends of Saint Francis Golf Tournament will take place from 6:30 am to 5 pm at the world-class Dalhousie Golf Club on Friday, August 19, 2022. The annual four-person scramble benefits community efforts to feed hungry children in our...