The Saint Francis Healthcare Scholarship Program is funded annually by Saint Francis Foundation and Saint Francis Auxiliary for the fall school semester. Students pursuing a career in healthcare or professionals seeking to advance their healthcare career can choose from 22 scholarships opportunities, worth up to $2,000 each. Applicants may receive one scholarship per year for a maximum of two years.
The Steven C. Bjelich Executive Scholarship is available to graduate students pursuing a Master's degree in healthcare administration and awards $5,000 to one recipient every two years.
Sorry, this year's deadline for entry has passed
Eligible Applicants
Students must have successfully completed one year as a student in an accredited healthcare program and be currently enrolled.
Students must have a minimum cumulative college GPA of 3.0 on a 4.0 scale.
Students' mailing address as indicated on the application must be within the Saint Francis Service Area.
Students must submit a fully completed online application and all required documentation by the established deadline. Applications received after this deadline will be considered ineligible.
Required Documentation
The following should accompany the online application:
Most recent official college transcript.
Letter of verification of current enrollment in a professional curriculum as a student of an accredited healthcare program. Must include accrediting agency in letter.
Two professional letters of recommendation (one academic, one personal).
Response to essay question found on application.
Selection Process
A scholarship selection committee will review all online applications and score the essay (one third of total score).
All applicants will be notified by August 11, 2023 by email if they are selected to receive a scholarship.
Scholarship recipient checks will be made payable to the college as indicated on the application.
All applicants will be considered regardless of race, creed, color, national origin, religion, ancestry, age, handicap or veteran status. Scholarship recipients are under no obligation to apply for or accept a position at Saint Francis Healthcare System.
Healthcare Scholarship Committee
| Committee Member | Name |
| --- | --- |
| Hospital Clinical/Ancillary Staff Member | Daniel Asmus |
| Auxiliary Board Member | Mona Nenninger |
| Foundation Board Member | Requi Salter |
| Scholarship Donor Member | Blair Huckstep |
| Human Resources Representative | Emily Vines |
| Hospital Clinical/Ancillary Staff Member | Dan Williams |
Healthcare Scholarship Recipients
2023 Recipients
Klara Beel – Lee George and Katherine Jane Cochran Memorial Scholarship
Kailey Bell – Sisters of Saint Francis Nursing Scholarship
Shannon Beussink – Raymond A. and Lillian K. Ritter Scholarship
Abby Brey – Edythe M. Davis Scholarship
Mary Dirnberger – Ken Hayden Memorial Nursing Scholarship
Keely Felts – Lucy Ellen Towse Memorial Scholarship
Brendan Gross – Susan Kluesner Hinkebein Memorial Scholarship
Emily Heberlie – Raymond A. and Lillian K. Ritter Scholarship
Emily Landewee – Joseph and Harriette Hunter McCrate Scholarship
Tammy Le – Bess Estes Healthcare Scholarship
Logan Lemons – Christen Joyel Aufdenberg Memorial Scholarship
Collin McMahon – Bernadean Campbell Memorial Scholarship
Addison Middleton – Huttegger-Scherer Memorial Scholarship
Julia Mirgaux – Mark F. Scully Nursing Scholarship
Sam Russo – Earl Jr. and Lori Wills Memorial Scholarship
Jade Samanta – Saint Francis Auxiliary Physician Honor Scholarship
Emma Shields – Saint Francis Auxiliary Healthcare Scholarship
Emily Smith – Carrie Suedekum Memorial Scholarship
Tra Statler – Saint Francis Auxiliary 125th Anniversary Scholarship
Grace Walter – Mamie Hall Memorial Scholarship
Ashley Wheeler – Saint Francis Auxiliary Healthcare Scholarship
Anita Williams – Clara D. Newnam Memorial Scholarship
Matthew Woodfin – Evalyn and S. David Nunley Scholarship
2022 Recipients
Kyla Beel – Christen-Joyel Aufdenberg Memorial Scholarship
Kailey Bell – Lucy Ellen Towse Memorial Scholarship
Shannon Beussink – Saint Francis Auxiliary Physician Honor Scholarship
Claire Bruenderman – Saint Francis 125th Anniversary Scholarship
Austin Bucher – Carrie Suedekum Memorial Scholarship
Katelyn Fehr – Evalyn and S David Nunley Scholarship
McKenzie Goodson – Saint Francis Auxiliary Healthcare Scholarship
Brendan Gross – Lee George and Katherine Jane Cochran Memorial Scholarship
Melanie Hayden – Bernadean Campbell Memorial Scholarship
Abigail Heisserer – Ken Hayden Memorial Scholarship
Britni Helton – Mamie Hall Memorial Scholarship
Logan Lemons – Susan E Kluesner-Hinkebein Memorial Scholarship
Tatum McCollough – Mark F. Scully Nursing Scholarship
Sean Merk – Raymond A and Lillian K. Ritter Scholarship
Stacy Meyer – Steven C Bjelich Scholarship
Alyssa Nolen – Clara D. Newnam Memorial Scholarship
Madelynne Ohmes – Edythe M Davis Scholarship
Chloe Pipkin – Bess Estes Healthcare Scholarship
Karolina Pogorzelski – Raymond A and Lillian K. Ritter Scholarship
Rebecca Reed – Earl Jr and Lori Wills Memorial Scholarship
Sydney Stark – Joseph and Hariette Hunter McCrate Scholarship
Allison Vaughn – Hutteger-Scherer Memorial Scholarship
Cortney Watson – Sisters of Saint Francis Nursing Scholarship
2021 Recipients
Madeleine Baker, MO – Christen Joyel Aufdenberg Memorial Scholarship
James (Jamie) Barnes, MO – Saint Francis Auxiliary Scholarship
Andrew Behrmann, MO – Carrie Suedekum Memorial Scholarship
Kailey Bell, MO – Ken Hayden Memorial Nursing Scholarship
Elise Bruenderman, MO – Susan Kluesner-Hinkebein Memorial Scholarship
Hanna Courtois, MO – Raymond A and Lillian K Ritter Scholarship – 2 given
Katelyn Fehr, MO – Edythe M Davis Scholarship
Josh Greaser, MO – Saint Francis Auxiliary Physician Honor Scholarship
Sydney Griffin, MO – Joseph and Harriette Hunter McCrate Scholarship
Madelyn Johnson, MO – Clara D Newnam Memorial Scholarship
Sydney Kern, MO – Lucy Ellen Towse Memorial Scholarship
Nolan Knupp, IL – Mamie Hall Memorial Scholarship
Tatum McCollough, MO – Mark F Scully Nursing Scholarship
Stacy Meyer, MO – Evelyn and S David Nunley Scholarship
Chloe Pipkin, MO – Raymond A and Lillian K Ritter Scholarship – 2 given
Karolina Pogorzelski, MO – Bess Estes Healthcare Scholarship
Kaylee Scherer, MO – Sisters of Saint Francis Nursing Scholarship
Keandra Speakman, MO – Bernadean Campbell Memorial Scholarship
Madison Strickland, MO – Hutteger-Scherer Memorial Scholarship
Kaya Thatch, MO – Earl Jr and Lori Wills Memorial Scholarship
Wil Walker, MO – Saint Francis Auxiliary 125th Anniversary Scholarship
Jack Warren, MO – Lee George and Katherine Jane Cochran Memorial Scholarship
2020 Recipients
Brooke Adams, MO – Huttegger-Scherer Memorial Scholarship
Kaleb Arends, MO – Lee George and Katherine Jane Cochran Memorial Scholarship
James Barnes, MO – Joseph and Harriette Hunter McCrate Scholarship
Laura Bauman, MO – Evalyn and S. David Nunley Scholarship
Elise Bruenderman, MO – Saint Francis Auxiliary 125th Anniversary Scholarship
Malary Burger, MO – Christen Joyel Aufdenberg Memorial Scholarship
Lauren Carron, MO – Mark F. Scully Nursing Scholarship
Miranda Craft, MO – Edyth M. Davis Scholarship
Brittney Dirnberger, MO – Ken Hayden Memorial Nursing Scholarship
Madison Dush, MO – Raymond A. and Lillian K. Ritter Scholarship
Josh Greaser, MO – Bess Estes Healthcare Scholarship
Madelyn Johnson, MO – Clara D. Newnam Memorial Scholarship
Grace Pehle, MO – Saint Francis Auxiliary Physician Honor Scholarship
Kaylee Scherer, MO – Sisters of Saint Francis Nursing Scholarship
Emma Sherrow, MO – Bernadean Campbell Memorial Scholarship
Hanna Stam, MO – Raymond A. and Lillian K. Ritter Scholarship
Megan Steward, IL – Saint Francis Auxiliary Healthcare Scholarship
Taylor Tripp, MO – Earl Jr. and Lori Wills Memorial Scholarship
Wil Walker, MO – Carrie Suedekum Memorial Scholarship
Ashley Wheeler, MO – Lucy Ellen Towse Memorial Scholarship
Justin White, IL – Mamie Hall Memorial Scholarship
Brooke Whitledge, MO – Susan Kluesner-Hinkebein Memorial Scholarship
2019 Recipients
Kaleb Arends, MO – Carrie Suedekum Memorial Scholarship
Bethany Beals, MO – Saint Francis Auxiliary 125th Anniversary Scholarship
Miranda Craft, MO – Lee George and Katherine Jane Cochran Memorial Scholarship
Lana Davis, MO – Mamie Hall Memorial Scholarship
Brittney Dirnberger, MO – Christen Joyel Aufdenberg Memorial Scholarship
Riley Duncan, MO – Joseph and Harriette Hunter McCrate Scholarship
Alyson Fluchel, MO – Sisters of Saint Francis Nursing Scholarship
Perry Hazelwood IV, MO – Raymond A. and Lillian K. Ritter Scholarship
Emily Heberlie, MO – Mark F. Scully Nursing Scholarship
Noah Hester, MO – Bess Estes Healthcare Scholarship
Brian Lesch, MO – Clara D. Newnam Memorial Scholarship
Matthew Lynn, MO – Raymond A. and Lillian K. Ritter Scholarship
Maci McCuan, MO – Evalyn and S. David Nunley Scholarship
Graycen Pehle, MO – Edythe M. Davis Scholarship
Haley Sample, MO – Ken Hayden Memorial Nursing Scholarship
Mikayla Stanfield, IL – Lucy Ellen Towse Memorial Scholarship
Katrina Stevenson, MO – Huttegger-Scherer Memorial Scholarship
Megan Stewart, IL – Saint Francis Auxiliary Physician Honor Scholarship
Ashley Viox, MO – Bernadean Campbell Memorial Scholarship
Zachary Vogel, MO – Susan Kluesner-Hinkebein Memorial Scholarship
Jack Warren, MO – Saint Francis Auxiliary Healthcare Scholarship
Brooke Whitledge, MO – Earl Jr. and Lori Wills Memorial Scholarship
2018 Recipients
Jaden Barnes, MO – Earl Jr. and Lori Wills Memorial Scholarship
Kendall Barnes, MO – Joseph and Harriette Hunter McCrate Scholarship
Adeline Beussink, MO – Mamie Hall Memorial Scholarship
Rachel Birkman, MO – Clara D. Newnam Memorial Scholarship
Paige Brown, MO – Bernadean Campbell Memorial Scholarship
Breiona Catching, MO – Saint Francis Auxiliary 125th Anniversary Scholarship
Melinna Craft, MO – Raymond A. and Lillian K. Ritter Scholarship
Emma Derickson, MO – Raymond A. and Lillian K. Ritter Scholarship
Kaleigh Eastep, MO – Saint Francis Foundation Scholarship
Alyson Fluchel, MO – Saint Francis Auxiliary Healthcare Scholarship
Allison Hotop, MO – Evalyn and S. David Nunley Scholarship
Lauren Kranawetter, MO – Huttegger-Scherer Memorial Scholarship
Caleb Likens, Cape Girardeau – Edythe M. Davis Scholarship
Alan Miller, MO – Carrie Suedekum Memorial Scholarship
Kirsti Pohlman, MO – Ken Hayden Memorial Scholarship
Macy Shively, MO – Saint Francis Auxiliary Physician Honor Scholarship
Eileen Sievers, MO – Lucy Ellen Towse Memorial Scholarship
Kayla Uhrhan, MO – Sisters of Saint Francis Nursing Scholarship
Zachary Vogel, MO – Lee George and Katherine Jane Cochran Memorial Scholarship
Tatum Wallace, MO – Christen Joyel Aufdenberg Memorial Scholarship
Emily Weber, MO – Susan Kluesner-Hinkebein Memorial Scholarship
Jacob Wren, MO – Bess Estes Healthcare Scholarship
Angela Wright, MO – Mark F. Scully Scholarship
Kandra Voshage, MO – Steven C. Bjelich Executive Scholarship
2017 Recipients
Jaden Barnes – Joseph and Harriette Hunter McCrate Scholarship
Paige Brown – Huttegger-Scherer Memorial Scholarship
Leah Browne – Lucy Ellen Towse Memorial Scholarship
Savanah Buch – Mamie Hall Memorial Scholarship
Sierra Buch – Raymond A. and Lillian K. Ritter Scholarship
Danielle Childers – Lee George and Katherine Jane Cochran Memorial Scholarship
Melinna Craft – Raymond A. and Lillian K. Ritter Scholarship
Rachel Diamond – Edythe M. Davis Scholarship
Elizabeth Grace – Saint Francis Foundation Scholarship
Jenna Hawkins – Evalyn and S. David Nunley Scholarship
Edgar Horn – Susan Kluesner-Hinkebein Memorial Scholarship
Stacy Latham – Christen Joyel Aufdenberg Memorial Scholarship
Caleb Likens – Carrie Suedekum Memorial Scholarship
Cody Likens – Bess Estes Healthcare Scholarship
Sara Long – Clara D. Newnam Memorial Scholarship
Shea Salyer – Ken Hayden Memorial Nursing Scholarship
Erica Scholl – Bernadean Campbell Memorial Scholarship
Shea Scholl – Saint Francis Auxiliary 125th Anniversary Scholarship
Tripti Shakya – Mark F. Scully Nursing Scholarship
Macy Shively – Saint Francis Auxiliary Physician Honor Scholarship
Dana Thiele – Saint Francis Auxiliary Healthcare Scholarship
Erica Welter – Earl Jr. and Lori Wills Memorial Scholarship
Dakota Werner – Sisters of Saint Francis Nursing Scholarship
2016 Recipients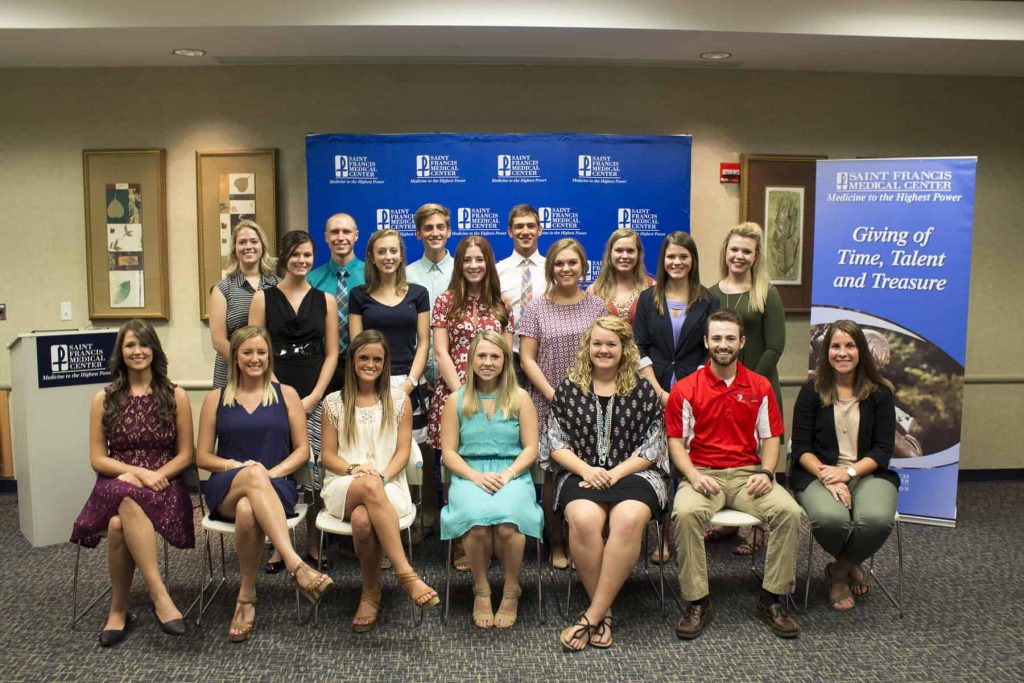 Abigail Breite, Cape Girardeau, MO – Bernadean Campbell Memorial Scholarship
Danielle Childers, Cape Girardeau, MO – Raymond A. and Lillian K. Ritter Scholarship
Angela Dickinson, Zalma, MO – Edythe M. Davis Scholarship
Alexis Engelhart, Jackson, MO – Raymond A. and Lillian K. Ritter Scholarship
Joshua Friess, Jackson, MO – Bess Estes Healthcare Scholarship
Jenna Hawkins, Portageville, MO – Evalyn and S. David Nunley Scholarship
Rachel Hearnes, Charleston, MO – Joseph and Harriette Hunter McCrate Scholarship
Morgan Hileman, Cape Girardeau, MO – Christen Joyel Aufdenberg Memorial Scholarship
Abigail Kenney, Cape Girardeau, MO – Susan Kluesner-Hinkebein Memorial Scholarship
Cody Likens, Cape Girardeau, MO – Carrie Suedekum Memorial Scholarship
Brianna Lueders, Cape Girardeau, MO – Mark F. Scully Nursing Scholarship
Anna Miller, Jackson, MO – Huttegger-Scherer Memorial Scholarship
Stephanie Nanney, Whitewater, MO – Sisters of Saint Francis Nursing Scholarship
Ryan O'Rear, Jackson, MO – Saint Francis Auxiliary Physician Honor Scholarship
Sara Pilsner, Cape Girardeau, MO – Ken Hayden Memorial Nursing Scholarship
Olivia Renner, Jackson, MO – Lee George and Katherine Jane Cochran Memorial Scholarship
Shea Scholl, Jackson, MO – Saint Francis Foundation Scholarship
Morgan Schumer, Cape Girardeau, MO – Earl Jr. and Lori Wills Memorial Scholarship
Ethan Seyer, Oak Ridge, MO – Mamie Hall Memorial Scholarship
Emma Steffens, Jackson, MO – Saint Francis Auxiliary Healthcare Scholarship
Dana Thiele, Leopold, MO – Saint Francis Auxiliary 125th Anniversary Scholarship
Katy Weston, Glen Allen, MO – Lucy Ellen Towse Memorial Scholarship
Adam Young, New Madrid, MO – Clara D. Newnam Memorial Scholarship
2015 Recipients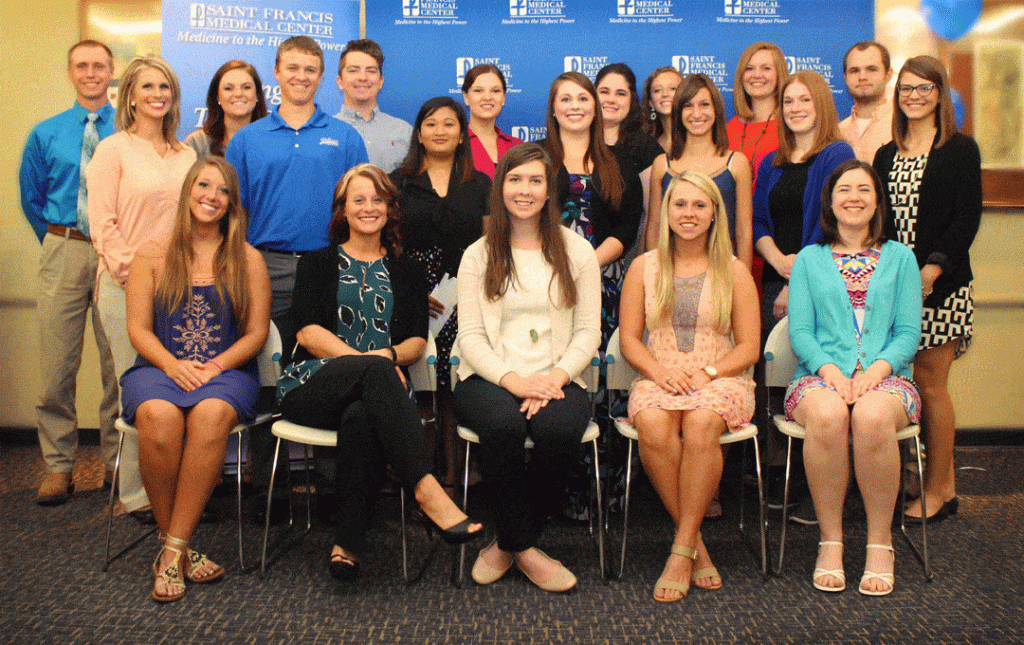 Austin Cook – Joseph and Harriette Hunter McCrate Scholarship
Alexis Engelhart – Lee George and Katherine Jane Cochran Memorial Scholarship
Emily Greenley – Saint Francis Foundation Scholarship
Rachel Hearnes – Clara D. Newnam Memorial Scholarship
Megan Hecht – Lucy Ellen Towse Memorial Scholarship
Kody Hindman – Carrie Suedekum Memorial Scholarship
Madison Huckstep – Susan Kluesner-Hinkebein Memorial Scholarship
Hannah Hunter – Ken Hayden Memorial Nursing Scholarship
Amanda Lappe – Earl Jr. and Lori Wills Memorial Scholarship
Elizabeth Leimer – Bess Estes Healthcare Scholarship
Kristy Lohman – Mamie Hall Memorial Scholarship
Sarah McCrate – Raymond A. and Lillian K. Ritter Scholarship
Kaitlin McGrath – Saint Francis Auxiliary Healthcare Scholarship
Jordan Myer – Evalyn and S. David Nunley Scholarship
Caleb Newcomer – Huttegger-Scherer Memorial Scholarship
Taylor Powers – Bernadean Campbell Memorial Scholarship
Olivia Renner – Saint Francis Auxiliary Physician Honor Scholarship
Ethan Seyer – Mark F. Scully Nursing Scholarship
Tripti Shakya – Christen Joyel Aufdenberg Memorial Scholarship
Emma Steffens – Saint Francis Auxiliary 125th Anniversary Scholarship
Cody Van de Ven – Raymond A. and Lillian K. Ritter Scholarship
Emily Welker – Sisters of Saint Francis Nursing Scholarship
Melissa Wyatt – Edythe M. Davis Scholarship