The Saint Francis Healthcare Scholarship Program is funded annually by Saint Francis Foundation and Saint Francis Auxiliary for the fall school semester. Students pursuing a career in healthcare or professionals seeking to advance their healthcare career can choose from 22 scholarships opportunities, worth up to $2,000 each. Applicants may receive one scholarship per year for a maximum of two years.
The Steven C. Bjelich Executive Scholarship is available to graduate students pursuing a Master's degree in healthcare administration and awards $5,000 to one recipient every two years.
The application deadline for the 2022 scholarship program has passed.
Healthcare Scholarship Recipients
2022 Recipients
Melanie Hayden – Bernadean Campbell Memorial Scholarship
Alyssa Nolen – Clara D. Newnam Memorial Scholarship
Kailey Bell – Lucy Ellen Towse Memorial Scholarship
Stacy Meyer – Steven C Bjelich Scholarship
Logan Lemons – Susan E Kluesner-Hinkebein Memorial Scholarship
Shannon Beussink – Saint Francis Auxiliary Physician Honor Scholarship
Allison Vaughn – Hutteger-Scherer Memorial Scholarship
Tatum McCollough – Mark F. Scully Nursing Scholarship
Katelyn Fehr – Evalyn and S David Nunley Scholarship
Abigail Heisserer – Ken Hayden Memorial Scholarship
Kyla Beel – Christen-Joyel Aufdenberg Memorial Scholarship
Britni Helton – Mamie Hall Memorial Scholarship
Austin Bucher – Carrie Suedekum Memorial Scholarship
Rebecca Reed – Earl Jr and Lori Wills Memorial Scholarship
Brendan Gross – Lee George and Katherine Jane Cochran Memorial Scholarship
Cortney Watson – Sisters of Saint Francis Nursing Scholarship
Sean Merk – Raymond A and Lillian K. Ritter Scholarship
Karolina Pogorzelski – Raymond A and Lillian K. Ritter Scholarship
Chloe Pipkin – Bess Estes Healthcare Scholarship
Madelynne Ohmes – Edythe M Davis Scholarship
Claire Bruenderman – Saint Francis 125th Anniversary Scholarship
McKenzie Goodson – Saint Francis Auxiliary Healthcare Scholarship
Sydney Stark – Joseph and Hariette Hunter McCrate Scholarship
2021 Recipients
Nolan Knupp, IL – Mamie Hall Memorial Scholarship
Karolina Pogorzelski, MO – Bess Estes Healthcare Scholarship
Madison Strickland, MO – Hutteger-Scherer Memorial Scholarship
Sydney Kern, MO – Lucy Ellen Towse Memorial Scholarship
Madelyn Johnson, MO – Clara D Newnam Memorial Scholarship
Hanna Courtois, MO – Raymond A and Lillian K Ritter Scholarship – 2 given
Madeleine Baker, MO – Christen Joyel Aufdenberg Memorial Scholarship
Chloe Pipkin, MO – Raymond A and Lillian K Ritter Scholarship – 2 given
Keandra Speakman, MO – Bernadean Campbell Memorial Scholarship
Kaylee Scherer, MO – Sisters of Saint Francis Nursing Scholarship
Elise Bruenderman, MO – Susan Kluesner-Hinkebein Memorial Scholarship
Andrew Behrmann, MO – Carrie Suedekum Memorial Scholarship
Stacy Meyer, MO – Evelyn and S David Nunley Scholarship
Kaya Thatch, MO – Earl Jr and Lori Wills Memorial Scholarship
Sydney Griffin, MO – Joseph and Harriette Hunter McCrate Scholarship
Jack Warren, MO – Lee George and Katherine Jane Cochran Memorial Scholarship
Katelyn Fehr, MO – Edythe M Davis Scholarship
Wil Walker, MO – Saint Francis Auxiliary 125th Anniversary Scholarship
Kailey Bell, MO – Ken Hayden Memorial Nursing Scholarship
Josh Greaser, MO – Saint Francis Auxiliary Physician Honor Scholarship
James (Jamie) Barnes, MO – Saint Francis Auxiliary Scholarship
Tatum McCollough, MO – Mark F Scully Nursing Scholarship
2020 Recipients
Brooke Adams, MO – Huttegger-Scherer Memorial Scholarship
Kaleb Arends, MO – Lee George and Katherine Jane Cochran Memorial Scholarship
James Barnes, MO – Joseph and Harriette Hunter McCrate Scholarship
Laura Bauman, MO – Evalyn and S. David Nunley Scholarship
Elise Bruenderman, MO – Saint Francis Auxiliary 125th Anniversary Scholarship
Malary Burger, MO – Christen Joyel Aufdenberg Memorial Scholarship
Lauren Carron, MO – Mark F. Scully Nursing Scholarship
Miranda Craft, MO – Edyth M. Davis Scholarship
Brittney Dirnberger, MO – Ken Hayden Memorial Nursing Scholarship
Madison Dush, MO – Raymond A. and Lillian K. Ritter Scholarship
Josh Greaser, MO – Bess Estes Healthcare Scholarship
Madelyn Johnson, MO – Clara D. Newnam Memorial Scholarship
Grace Pehle, MO – Saint Francis Auxiliary Physician Honor Scholarship
Kaylee Scherer, MO – Sisters of Saint Francis Nursing Scholarship
Emma Sherrow, MO – Bernadean Campbell Memorial Scholarship
Hanna Stam, MO – Raymond A. and Lillian K. Ritter Scholarship
Megan Steward, IL – Saint Francis Auxiliary Healthcare Scholarship
Taylor Tripp, MO – Earl Jr. and Lori Wills Memorial Scholarship
Wil Walker, MO – Carrie Suedekum Memorial Scholarship
Ashley Wheeler, MO – Lucy Ellen Towse Memorial Scholarship
Justin White, IL – Mamie Hall Memorial Scholarship
Brooke Whitledge, MO – Susan Kluesner-Hinkebein Memorial Scholarship
2019 Recipients
Kaleb Arends, MO – Carrie Suedekum Memorial Scholarship
Bethany Beals, MO – Saint Francis Auxiliary 125th Anniversary Scholarship
Miranda Craft, MO – Lee George and Katherine Jane Cochran Memorial Scholarship
Lana Davis, MO – Mamie Hall Memorial Scholarship
Brittney Dirnberger, MO – Christen Joyel Aufdenberg Memorial Scholarship
Riley Duncan, MO – Joseph and Harriette Hunter McCrate Scholarship
Alyson Fluchel, MO – Sisters of Saint Francis Nursing Scholarship
Perry Hazelwood IV, MO – Raymond A. and Lillian K. Ritter Scholarship
Emily Heberlie, MO – Mark F. Scully Nursing Scholarship
Noah Hester, MO – Bess Estes Healthcare Scholarship
Brian Lesch, MO – Clara D. Newnam Memorial Scholarship
Matthew Lynn, MO – Raymond A. and Lillian K. Ritter Scholarship
Maci McCuan, MO – Evalyn and S. David Nunley Scholarship
Graycen Pehle, MO – Edythe M. Davis Scholarship
Haley Sample, MO – Ken Hayden Memorial Nursing Scholarship
Mikayla Stanfield, IL – Lucy Ellen Towse Memorial Scholarship
Katrina Stevenson, MO – Huttegger-Scherer Memorial Scholarship
Megan Stewart, IL – Saint Francis Auxiliary Physician Honor Scholarship
Ashley Viox, MO – Bernadean Campbell Memorial Scholarship
Zachary Vogel, MO – Susan Kluesner-Hinkebein Memorial Scholarship
Jack Warren, MO – Saint Francis Auxiliary Healthcare Scholarship
Brooke Whitledge, MO – Earl Jr. and Lori Wills Memorial Scholarship
2018 Recipients
Jaden Barnes, MO – Earl Jr. and Lori Wills Memorial Scholarship
Kendall Barnes, MO – Joseph and Harriette Hunter McCrate Scholarship
Adeline Beussink, MO – Mamie Hall Memorial Scholarship
Rachel Birkman, MO – Clara D. Newnam Memorial Scholarship
Paige Brown, MO – Bernadean Campbell Memorial Scholarship
Breiona Catching, MO – Saint Francis Auxiliary 125th Anniversary Scholarship
Melinna Craft, MO – Raymond A. and Lillian K. Ritter Scholarship
Emma Derickson, MO – Raymond A. and Lillian K. Ritter Scholarship
Kaleigh Eastep, MO – Saint Francis Foundation Scholarship
Alyson Fluchel, MO – Saint Francis Auxiliary Healthcare Scholarship
Allison Hotop, MO – Evalyn and S. David Nunley Scholarship
Lauren Kranawetter, MO – Huttegger-Scherer Memorial Scholarship
Caleb Likens, Cape Girardeau – Edythe M. Davis Scholarship
Alan Miller, MO – Carrie Suedekum Memorial Scholarship
Kirsti Pohlman, MO – Ken Hayden Memorial Scholarship
Macy Shively, MO – Saint Francis Auxiliary Physician Honor Scholarship
Eileen Sievers, MO – Lucy Ellen Towse Memorial Scholarship
Kayla Uhrhan, MO – Sisters of Saint Francis Nursing Scholarship
Zachary Vogel, MO – Lee George and Katherine Jane Cochran Memorial Scholarship
Tatum Wallace, MO – Christen Joyel Aufdenberg Memorial Scholarship
Emily Weber, MO – Susan Kluesner-Hinkebein Memorial Scholarship
Jacob Wren, MO – Bess Estes Healthcare Scholarship
Angela Wright, MO – Mark F. Scully Scholarship
Kandra Voshage, MO – Steven C. Bjelich Executive Scholarship
2017 Recipients
Jaden Barnes – Joseph and Harriette Hunter McCrate Scholarship
Paige Brown – Huttegger-Scherer Memorial Scholarship
Leah Browne – Lucy Ellen Towse Memorial Scholarship
Savanah Buch – Mamie Hall Memorial Scholarship
Sierra Buch – Raymond A. and Lillian K. Ritter Scholarship
Danielle Childers – Lee George and Katherine Jane Cochran Memorial Scholarship
Melinna Craft – Raymond A. and Lillian K. Ritter Scholarship
Rachel Diamond – Edythe M. Davis Scholarship
Elizabeth Grace – Saint Francis Foundation Scholarship
Jenna Hawkins – Evalyn and S. David Nunley Scholarship
Edgar Horn – Susan Kluesner-Hinkebein Memorial Scholarship
Stacy Latham – Christen Joyel Aufdenberg Memorial Scholarship
Caleb Likens – Carrie Suedekum Memorial Scholarship
Cody Likens – Bess Estes Healthcare Scholarship
Sara Long – Clara D. Newnam Memorial Scholarship
Shea Salyer – Ken Hayden Memorial Nursing Scholarship
Erica Scholl – Bernadean Campbell Memorial Scholarship
Shea Scholl – Saint Francis Auxiliary 125th Anniversary Scholarship
Tripti Shakya – Mark F. Scully Nursing Scholarship
Macy Shively – Saint Francis Auxiliary Physician Honor Scholarship
Dana Thiele – Saint Francis Auxiliary Healthcare Scholarship
Erica Welter – Earl Jr. and Lori Wills Memorial Scholarship
Dakota Werner – Sisters of Saint Francis Nursing Scholarship
2016 Recipients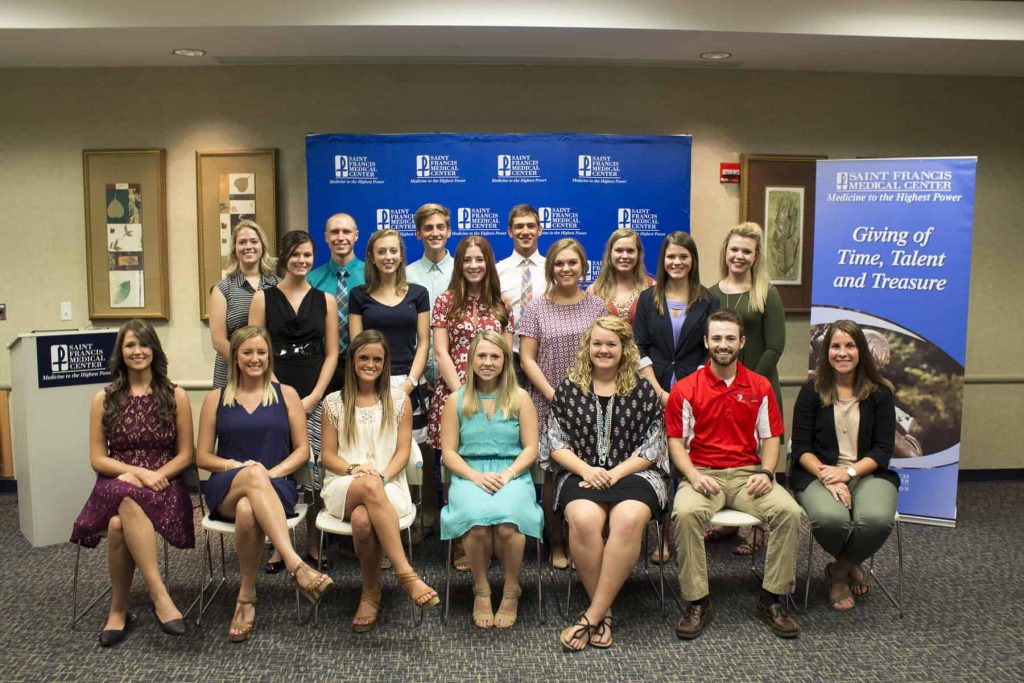 Abigail Breite, Cape Girardeau, MO – Bernadean Campbell Memorial Scholarship
Danielle Childers, Cape Girardeau, MO – Raymond A. and Lillian K. Ritter Scholarship
Angela Dickinson, Zalma, MO – Edythe M. Davis Scholarship
Alexis Engelhart, Jackson, MO – Raymond A. and Lillian K. Ritter Scholarship
Joshua Friess, Jackson, MO – Bess Estes Healthcare Scholarship
Jenna Hawkins, Portageville, MO – Evalyn and S. David Nunley Scholarship
Rachel Hearnes, Charleston, MO – Joseph and Harriette Hunter McCrate Scholarship
Morgan Hileman, Cape Girardeau, MO – Christen Joyel Aufdenberg Memorial Scholarship
Abigail Kenney, Cape Girardeau, MO – Susan Kluesner-Hinkebein Memorial Scholarship
Cody Likens, Cape Girardeau, MO – Carrie Suedekum Memorial Scholarship
Brianna Lueders, Cape Girardeau, MO – Mark F. Scully Nursing Scholarship
Anna Miller, Jackson, MO – Huttegger-Scherer Memorial Scholarship
Stephanie Nanney, Whitewater, MO – Sisters of Saint Francis Nursing Scholarship
Ryan O'Rear, Jackson, MO – Saint Francis Auxiliary Physician Honor Scholarship
Sara Pilsner, Cape Girardeau, MO – Ken Hayden Memorial Nursing Scholarship
Olivia Renner, Jackson, MO – Lee George and Katherine Jane Cochran Memorial Scholarship
Shea Scholl, Jackson, MO – Saint Francis Foundation Scholarship
Morgan Schumer, Cape Girardeau, MO – Earl Jr. and Lori Wills Memorial Scholarship
Ethan Seyer, Oak Ridge, MO – Mamie Hall Memorial Scholarship
Emma Steffens, Jackson, MO – Saint Francis Auxiliary Healthcare Scholarship
Dana Thiele, Leopold, MO – Saint Francis Auxiliary 125th Anniversary Scholarship
Katy Weston, Glen Allen, MO – Lucy Ellen Towse Memorial Scholarship
Adam Young, New Madrid, MO – Clara D. Newnam Memorial Scholarship
2015 Recipients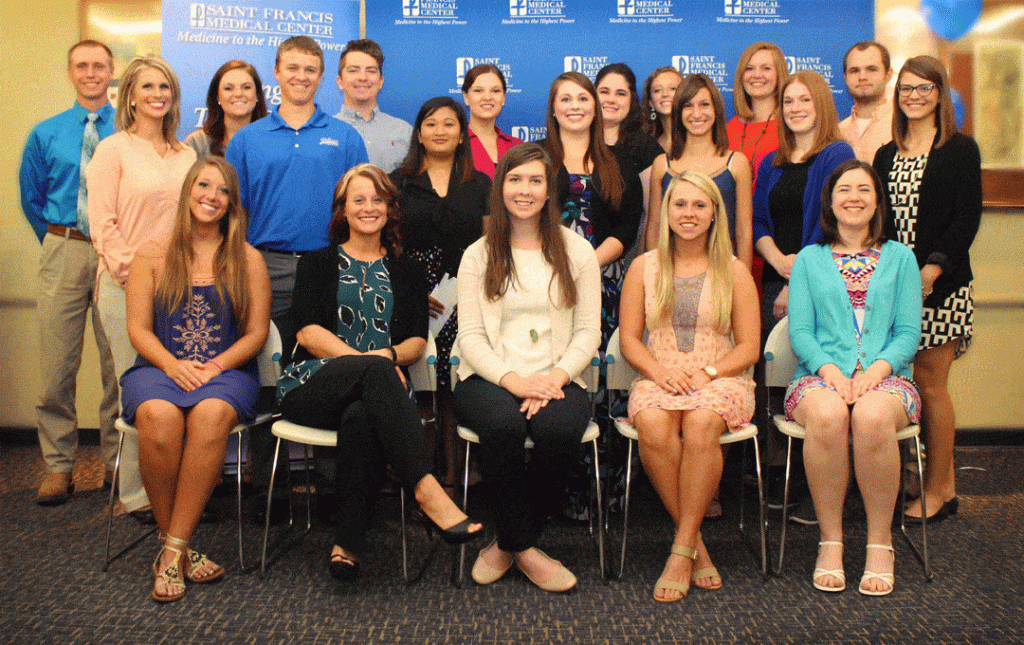 Taylor Powers – Bernadean Campbell Memorial Scholarship
Elizabeth Leimer – Bess Estes Healthcare Scholarship
Kody Hindman – Carrie Suedekum Memorial Scholarship
Tripti Shakya – Christen Joyel Aufdenberg Memorial Scholarship
Rachel Hearnes – Clara D. Newnam Memorial Scholarship
Amanda Lappe – Earl Jr. and Lori Wills Memorial Scholarship
Melissa Wyatt – Edythe M. Davis Scholarship
Jordan Myer – Evalyn and S. David Nunley Scholarship
Caleb Newcomer – Huttegger-Scherer Memorial Scholarship
Austin Cook – Joseph and Harriette Hunter McCrate Scholarship
Hannah Hunter – Ken Hayden Memorial Nursing Scholarship
Alexis Engelhart – Lee George and Katherine Jane Cochran Memorial Scholarship
Megan Hecht – Lucy Ellen Towse Memorial Scholarship
Kristy Lohman – Mamie Hall Memorial Scholarship
Ethan Seyer – Mark F. Scully Nursing Scholarship
Sarah McCrate – Raymond A. and Lillian K. Ritter Scholarship
Cody Van de Ven – Raymond A. and Lillian K. Ritter Scholarship
Emma Steffens – Saint Francis Auxiliary 125th Anniversary Scholarship
Kaitlin McGrath – Saint Francis Auxiliary Healthcare Scholarship
Olivia Renner – Saint Francis Auxiliary Physician Honor Scholarship
Emily Greenley – Saint Francis Foundation Scholarship
Emily Welker – Sisters of Saint Francis Nursing Scholarship
Madison Huckstep – Susan Kluesner-Hinkebein Memorial Scholarship