Say "Thanks" to Your Healthcare Team
At Saint Francis Healthcare System, patient care is our top priority. You and your family deserve the best medical services in the region, and the Saint Francis Family is proud to continue to exceed your expectations.
The best way to say "thank you" to the physicians, nurses, therapists, volunteers or other staff members who cared for you and your family is to support the work they do each day by making a financial gift to the Grateful Patient program. In recognition of your gift, you may nominate a special Saint Francis colleague or department to receive recognition.
The Saint Francis Family gives its best each day and is committed to providing the expert care our patients and their loved ones deserve. Contributions to Saint Francis Foundation benefit patients who are diagnosed, treated and cared for in our Healthcare System.
"To be honest it brought a tear to my eye. It blessed my heart to think that a family would think of me in their time of sorrow. I was the one who should have made her (the donor's) day better, but she was the one who brightened mine! I so admired her faith and strength. Her family will always have a special place in my heart!"

– C. Kim Wilson, Receptionist II, Cape Medical Oncology
"All of the staff, no matter their job title, were pleasant both day and night. Everyone we came in contact with from the physicians, nurse practitioner, nurses, the nursery nurses, nurse assistants, techs, administrative partners, lactation consultants, and dietary were exceptional and a cut above the rest. They bent over backwards to ensure we were comfortable and had everything we needed. When the call light was pressed they would immediately answer and come within a few minutes. The nursery staff kept us informed and were so loving to our twins. I knew that they were in good hands and well cared for."

— Malinda, mother of twin daughters born at the Family BirthPlace
Tell Us About Your Experience
Please tell us how our staff has touched you or your family's life. Saint Francis recognizes outstanding staff members for their hard work, commitment to excellence in patient satisfaction and dedication to our Mission.
Grateful Patient Online Donation Form
Grateful Patient Printable Donation Form
2023 Recognitions
Kierra Barnett, RN – Saint Francis Medical Center
Lisa King, CNA – Saint Francis Medical Center
Abby Lyons, RRT, Bradley K. Bittle, MD, FCCP, D-ABSM, Michael Schaun Flaim, DO, Tiffany Samples, DO and Matthew Shepard, MD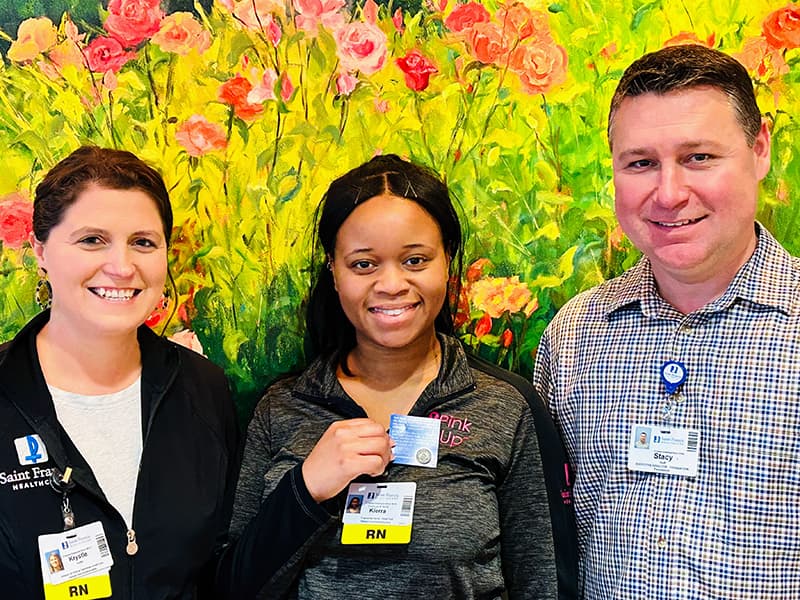 Past Years' Honorees
2022
Individual Recognitions:
Lisa King, CNA – Saint Francis Medical Center
2021
Individual Recognitions:
Melissa Craft – Cape Cardiology Group
Abbie Miller – Cape Cardiology Group
Dr. Rebecca Smith – Cape Cardiology Group
Beverley Kester – Cardiac Rehabilitation
Kelly Patterson – Cardiac Rehabilitation
Sandy Grebing – NICU
2020
Department Recognitions:
COVID-19 Healthcare Heroes
Individual Recognitions:
Rachael Telle
Katlyn Hall
Erin Drake
Kristen Veter Horn, Kristen McGarity, Kara Page, Mark Proffer
Rachel Peck, Stuart Greaser, Ryan Schmid
Tiffany Samples
Katrina Calhoun
Steve Hogan
Melissa Glaser
Alicia Caldwell
2019
2018
Department Recognitions:
Pain Management Center
Neurosciences
Admitting
Post-Anesthesia Care Unit
Surgical Services
Radiology
Individual Recognitions:
Sharon Ballman – Hospice
Rebecca Williamson – Cape Neurosurgical Associates
Dr. Andrew Walker – Pain Management Center
Paige Reinagel – Outpatient Rehab
Gwendolyn Schieffer – Outpatient Rehab
Carrie Johnson – Outpatient Rehab
Christine Hunter – Outpatient Rehab
Cynthia Etheridge – Outpatient Rehab
Laura Randen – Outpatient Rehab
Jennifer Mauer – Outpatient Rehab
Donna Essner – Outpatient Rehab
Ryan Bandermann – Outpatient Rehab
Dr. Michael Killen – Emergency Department
Dr. Martin Blake – Emergency Department
April Floyd – Progressive Care Unit
Brittany McArthur and Sonya Pearman – Hospice Services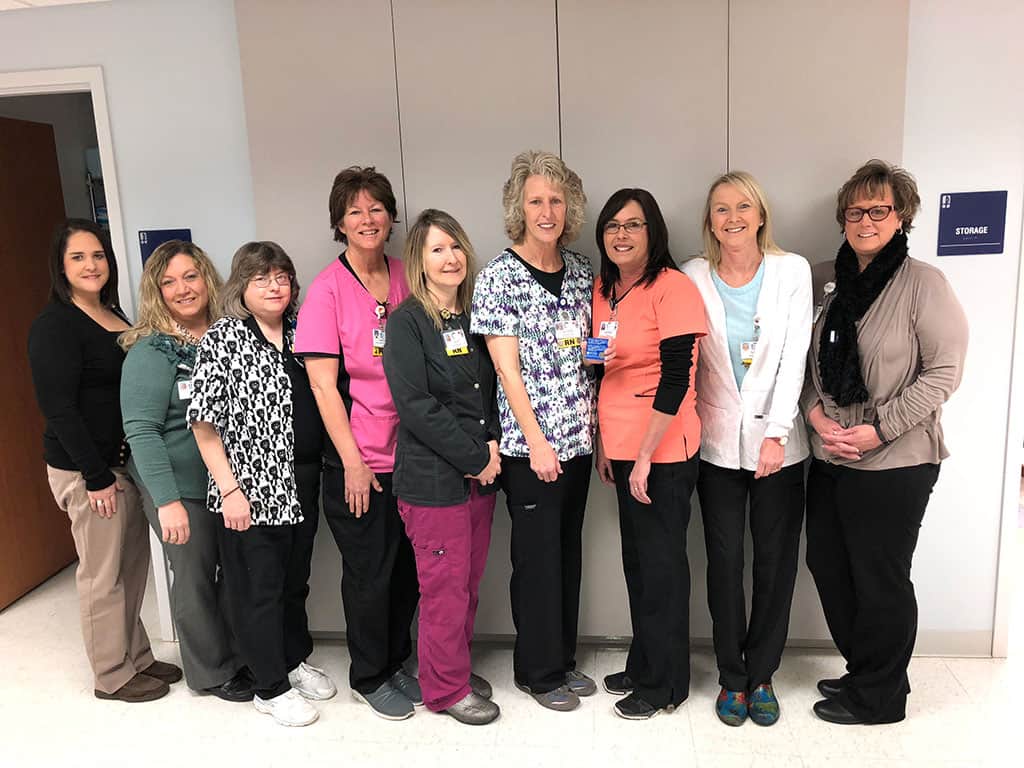 2017
Department Recognitions:
Cardiac Intensive Care Unit
Cardiac Rehabilitation
Cardiovascular Lab
Emergency Department
Progressive Care Unit
Wound Care
Individual Recognitions:
Dr. Olivia Aranha – Cape Medical Oncology
Dr. William K. LaFoe – Cape Cardiology Group (Received two recognitions)
Dr. Kimberly K. Roos – Cape Care for Women
Sharon Ballman – Hospice
Carolyn Frank – MICU
Lisa King – Orthopedics
Jerry Parnell – MICU
Julie Robinson – Emergency Department
2016
Department Recognitions:
Family BirthPlace
Inpatient Occupational Therapy
Inpatient Physical Therapy
Inpatient Rehabilitation
Individual Recognitions:
Dr. Carlos Robles – Cape Medical Oncology
Tracy Carr – Family BirthPlace
Laurie Clippard – Neuro
Tonya Florence – Neuro
Faith French – Inpatient Rehabilitation
Kelli Sweet – General Medical
Eddie Wagoner – Case Management
2015
Department Recognitions:
Saint Francis Clinic Kingshighway
Cape Radiation Oncology
Infusion
Inpatient Occupational Therapy
Inpatient Physical Therapy
Inpatient Rehabilitation – Sara Mahnken
Pharmacy
Regional Lab (in Heart Hospital)
Saint Francis Hospice
Individual Recognitions:
Dr. Carlos Robles – Cape Medical Oncology
Jessica Andrews – Neuro
Tom Brumitt – Radiology
John Buell – Valet
Jonathan Burford – Neuro
Pat Cameron – Volunteers
Janet Casper – Radiology
Monica Coleman – Registration
Darlene Daniel – Cape ENT
Kasie Dozier – Neuro
Sandy Glueck – Registration
Pam Kimbel – Valet
Carol Miller – Radiology
Renee Poole – Cape Medical Oncology
Amy Rigg – Radiology
Vickie Rogers – Radiology
Mike Rolwing – Valet
Gary Sadler – Valet
Michelle Scherer – Infusion Center
Stacey Starnes – Radiology
Bob Watson – Valet
Linda Williams – Neuro
Kim (Candy) Wilson – Cape Medical Oncology
2014
Department Recognitions:
Cape Cardiology Group – Justin Winkler
Center for Joint Replacement & Revision
Executive Team
Family BirthPlace
Inpatient Rehabilitation – Sara Mahnken
Outpatient Physical Therapy – Joel Sander
Saint Francis Hospice
Volunteer Services – Debbie Gibson
Individual Recognitions:
Ryan Bandermann – Outpatient Physical Therapy
Stephanie Flippin – Physicians Park Primary Care
Steve Logel – Outpatient Physical Therapy
2013
Department Recognitions:
Business Office
Children's Center
Emergency Department – Carla Crump/Marcia Abernathy
Inpatient Occupational Therapy
Inpatient Physical Therapy
Inpatient Rehabilitation – Sara Mahnken
Neurosciences
Outpatient Physical Therapy – Joel Sander
Pastoral Care – Debbie Gibson
Speech and Hearing
Surgical Intensive Care Unit
Individual Recognitions:
Dr. Heidi Hunter – Rehab Medical
Michael Cushman – Inpatient Rehabilitation
Lori Fallert – Surgical
Sandy Grebing – Level III NICU
Judy Heitman – Case Management
Jenifer Koehler – Inpatient Rehabilitation
Kim Penny – Inpatient Rehabilitation
2012
Department Recognitions:
Family BirthPlace
Inpatient Occupational Therapy
Inpatient Physical Therapy
Inpatient Rehabilitation – Sara Mahnken
Post Anesthesia Care Unit
Same Day Services
Speech and Hearing
Surgical Intensive Care Unit
Surgical Services
Individual Recognitions:
Dr. Heidi Hunter – Rehab Medical
Donna Essner – Outpatient Speech Therapy
Christine Kaaz – Outpatient Physical Therapy
Lana Lange – Outpatient Physical Therapy
Jim Lawrence – Business Development
Marlene Lyon – Operating Room
2011
Department Recognitions:
Family BirthPlace
Inpatient Occupational Therapy
Inpatient Physical Therapy
Inpatient Rehabilitation – Sara Mahnken
Orthopedics – 2G
Progressive Care Unit
Individual Recognitions:
Dr. Laura Al-Sayed – Neonatology
Dr. Heidi Hunter – Rehab Medical
Dr. Patrick Knight – Orthopedics
Neal Tanner – Outpatient Physical Therapy
2010
Department Recognitions:
Surgical Intensive Care Unit
Individual Recognitions:
Dr. Chris Bauer – Hospitalists
Dr. Ryan Davis – Hospitalists
Dr. Bindu Finnell – Hospitalists
Tammi Asmus – Cape Physician Associates
Michelle Boyer – Medical Intensive Care
Sara Cissel – Medical Intensive Care
Denece Curtis – Family Birthplace
Amy Derousse – Transfer Center
Brenda Hanle – Health Information Management
Greg Heinsman – Pastoral Care
Alana Hodo – Transfer Center
Melissa Holley – Children's Center
Melissa Holley – Children's Center
Lana Lange – Outpatient Physical Therapy
Cookie Little – Cape Physician Associates
Teresa Medlock – Children's Center
Lisa Mills – Family Birthplace
Roberta Terry – Children's Center
Dennis VanAsche – Cancer Services Administration