Foundation News
The Saint Francis Foundation has received a $10,000 grant from the American Cancer Society (ACS) to provide transportation for cancer patients in need. The grant will underwrite gas cards and car service rides for eligible patients who face transportation barriers...
The Sixth Annual Friends Gala event was held Saturday, March 5, at Drury Plaza Conference Center, and raised more than $260,000 for Saint Francis Foundation. The 2022 event marked the first in-person Friends Gala in two years. Jimmy Wilferth, Vice President...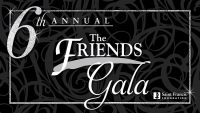 Stacy Huff Saint Francis Healthcare System is pleased to announce Stacy Huff has accepted the Executive Director of Foundation position, effective January 2022. Huff joins Saint Francis from the Boy Scouts of America National Foundation in Dallas, TX, where he served as...
The Saint Francis Foundation hosted their third annual Color Dash 5K and Fun Walk on Saturday, October 2, 2021, at Arena Park. The turnout for the 5K and one mile fun walk included 219 participants and 52 volunteers. Nearly $30,000...
The Friends Gala Virtual Auction was held August 9 to 25 and raised more than $100,000 for Saint Francis Foundation. The event marked the sixth year of the fundraising event The Friends Gala, but this was the first year in...