Digital Retinal Photography at the Level III NICU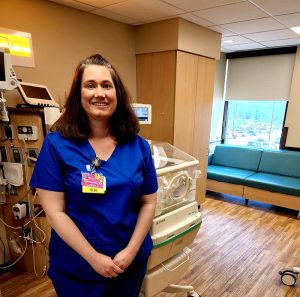 Retinopathy of Prematurity (ROP) is a potentially blinding eye disorder that primarily affects premature infants born before 31 weeks. Infants' eyes develop rapidly within the last 12 weeks of pregnancy. When a baby is born prematurely, the blood vessels in the eyes may stop growing causing abnormal vessels to begin to grow in order to reach the retina. The new blood vessels are much more fragile and can bleed, which can lead to retinal scarring. If not treated, this can cause the retina to detach from the back of the eye and cause vision loss.
"One of the requirements of being a Level III NICU is having a digital retinal photography device in order to monitor the eyes of our premature infants. We closely monitor the eyes of all infants born 30 weeks or less and infants that weigh less than 1500 grams at birth. These infants are more prone to develop ROP because the vessels in their eyes may not have fully developed," says Amanda Burgess, Lead Charge Nurse of the Level III NICU at Saint Francis Medical Center.
"Our digital retinal photography device allows us to view the vessels within an infant's eyes and monitor them to ensure they are developing properly and no abnormal vessels are growing. Using this machine, we can determine if an infant is at risk for ROP and what treatment is necessary. Some infants that develop ROP must have laser therapy in order to preserve their vision. This machine allows us to catch the risks early on so our babies have the best possible outcome."
Learn more about the Level III NICU at Saint Francis Medical Center.