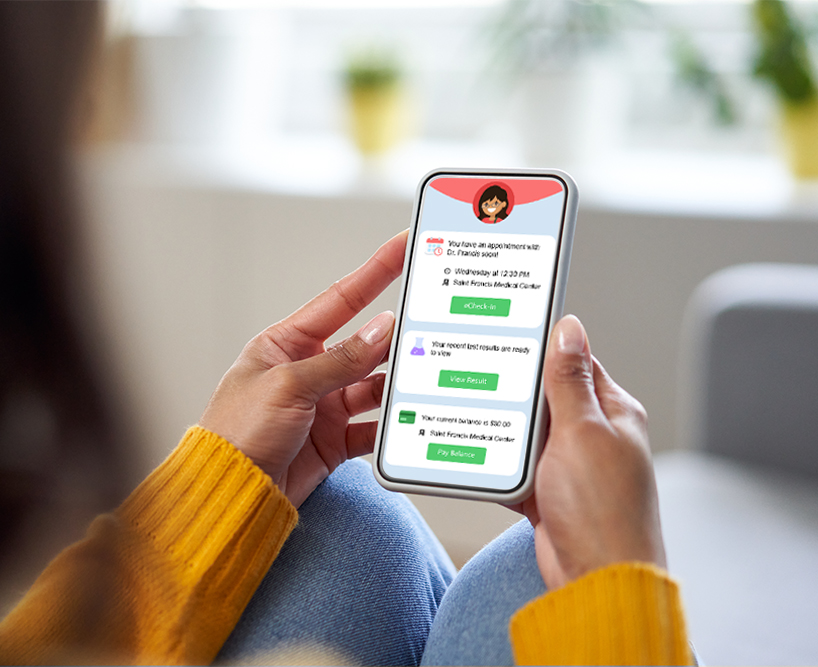 Support: 573-331-5024
Stay Connected to your Health – Anytime, Anywhere
Did you know you can manage your health record online with Saint Francis MyChart? It is a safe and secure way to access Saint Francis Healthcare System providers and services – all day, every day. Stay connected to your provider through many convenient features and virtual care options. Creating a MyChart account is easy and only take a few minutes to sign up.
With MyChart, you can message your provider, view lab results, refill prescriptions, pay medical bills and much more. Sign up today!
It allows you to create and count on a convenient, valuable health connection for you and your family.
Saint Francis MyChart Benefits
Communicate with your provider
Get answers to your medical questions from the comfort of your home
Access your test results
No more waiting for a phone call or letter – view your results and your provider comment within days
Request prescription refills
All you need is a smartphone, computer or tablet.
Manage your appointments
Schedule your next appointment, or check-in online
Access Virtual Urgent Care
Talk to a provider for many health conditions
Manage payments
View and pay your bill online, apply for financial assistance, set up payment plans, request a cost estimate and more.
Frequently Asked Questions
How do I sign up for Saint Francis MyChart?
Is Saint Francis MyChart totally secure?
Yes. Your lab results, appointment info, medications, immunizations and other records are all securely stored in an online portal, which means your information is encrypted and, therefore, protected.
Can I really send messages directly to my provider?
Yes. Patients can interact with an office/physician by requesting consultations or sending direct messages to the provider. The "inbox" option allows patients to message and directly communicate with their physician, and you can use this feature for the same questions you would typically ask over the phone.
As a parent, am I able to access my children's medical records or that of a loved one?
If you have your own MyChart account, you are able to sign up for proxy access to view the medical records of your child, or to stay informed of an elderly parent or loved one's healthcare decisions, if you are the authorized caregiver. For more information on proxy access, please speak to your doctor's office or call 573-331-5024.
Can I use Saint Francis MyChart to request prescription refills from my provider?
Yes, once you have logged into your account, look for the tab at the top that says "Refills." If this is a new request, you will need to schedule an appointment with your provider before any medication can be prescribed.
Where can I download the Saint Francis MyChart app for my smartphone or tablet?
The Saint Francis MyChart app can be downloaded from the App Store or Google Play. Once you have downloaded the app, you will need to select Missouri from the state list, and then scroll down to find Saint Francis Healthcare System. You can then proceed with setting up your MyChart account.
Do I have to pay to use Saint Francis MyChart?
No, it is a completely free online service for Saint Francis patients.
How do I reset my username or password?
Your username can be changed by clicking on the "Forgot MyChart Username" link within your MyChart page. Similarly, your password can be changed by clicking on the "Forgot Password" link within your MyChart page. The password can also be changed from the "Preferences" tab inside the MyChart account. View step-by-step instructions for resetting your MyChart password
More Information
If you have questions about Saint Francis MyChart, call 573-331-5024 for assistance, Monday-Friday, 8 am to 4:30 pm.