Saint Francis Cancer Institute offers comprehensive oncology services for the treatment of many types of cancer, and our skilled oncologists and surgeons are recognized experts in cancer care. Accredited by the Commission on Cancer (CoC), we are committed to providing you with high quality, patient-centered care. This accreditation allows you access to the services needed from initial diagnosis through remission – close to the love and support of your loved ones.
Cancers Treated
Saint Francis treats a wide range of cancers, including:
Bladder cancer
Bone cancer
Brain cancer
Breast cancer
Cervical cancer
Colon cancer
Colorectal cancer
Leukemia
Lung cancer
Lymphoma
Multiple myeloma
Ovarian cancer
Pancreatic cancer
Prostate cancer
Skin cancer
Testicular cancer
Thyroid cancer
Uterine cancer
Technology
Saint Francis Medical Center uses the latest in medical technology to detect and treat cancer, including:
3 Tesla MRI Machine
PET F18 Bone Survey
Radioactive Iodine Ablation
Stereotactic Body Radiation Therapy (SBRT)
Surface Guided Radiation Therapy (SGRT)
Tomosynthesis mammography
Volumated Modulated Arc Therapy
Treatments
Our board certified medical oncologists and radiation oncologists offer several treatments, including;
Chemotherapy
Biological drug therapy
Image-guided radiation therapy (IGRT)
Immunotherapy
Intensity-modulated radiation therapy (IMRT)
Frameless stereotactic radiosurgery
Surgery
Xofigo — Radium 223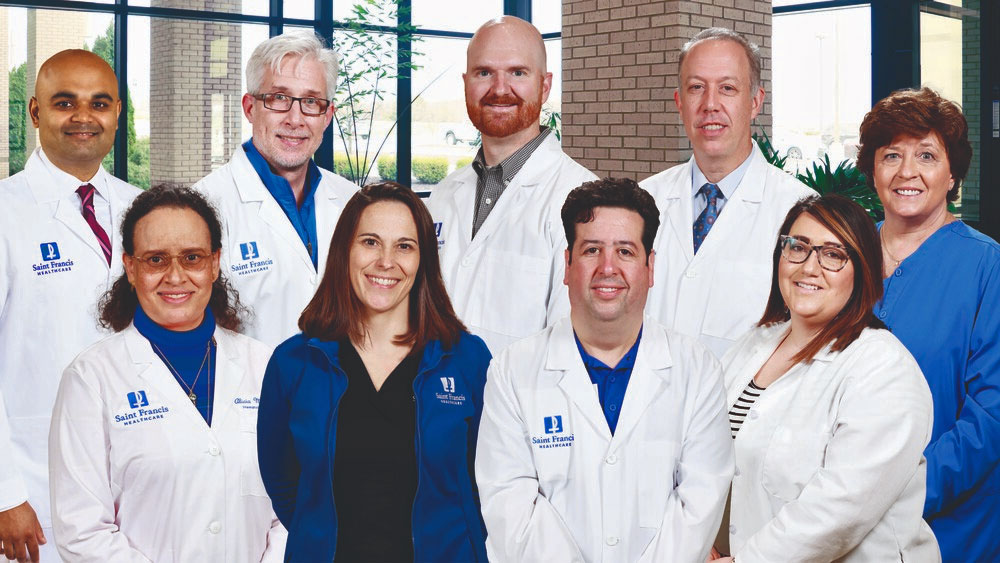 Cancer Genetic Counseling
Cancer genetic counseling involves having a certified genetic counselor help you better understand how having a personal or family history of cancer impacts your own chances of developing cancer. Learn more about genetic counseling.
Cancer Navigator
Coping with a cancer diagnosis can be difficult. You and your family may have questions and concerns about your health and may need help accessing care. Saint Francis Healthcare System's Cancer Institute is here to help guide you every step of the way.
The cancer navigator is a specialty-trained individual who will guide you and your family through the cancer care system.
The cancer navigator is available to:
Help you navigate through your cancer care
Assist in seeking financial solutions
Supply educational information regarding local resources and support available
Assist in seeking options to manage distress
Benefits the cancer navigator provides include:
Improved and more timely access to cancer care services and information
Fewer delayed and missed appointments
Increased satisfaction with your cancer care experience
Outpatient Care
The Cancer Institute offers various outpatient services:
Contact
For more information about the Cancer Institute at Saint Francis Medical Center, call 573-334-2230.