The Neurosciences Institute is a progressive leader in diagnosing, treating, and caring for injuries and illnesses of the brain, spine, and nerves. Staffed by a highly experienced team of neurologists, neurosurgeons, neuroradiologists, nurses, technicians, and rehabilitation specialists, we use the latest advances in medical technology to relieve discomfort, speed recovery, and minimize inpatient stays.
Patients receive focused care at these specialized centers and clinics: Spine Center of Excellence, ALS Clinic, Concussion Clinic, MS Care Center, Neuromuscular Clinic, Pain Management Center, Spasticity Clinic and the Stroke Center, open 24 hours a day, seven days a week for stroke emergencies.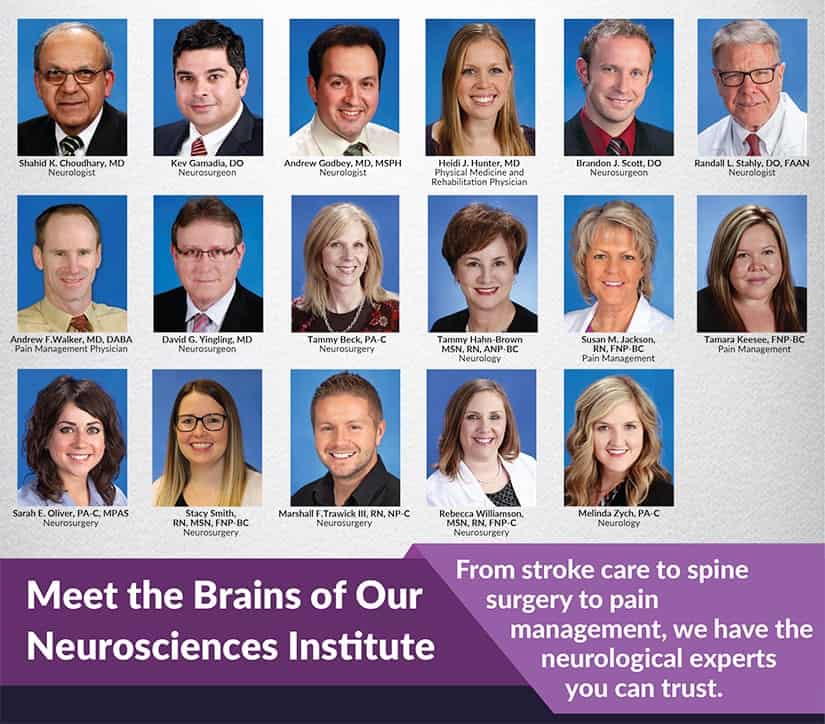 Spine Center of Excellence
The Spine Center of Excellence means you'll get the right care at the right time — every time. Guided by a spine navigator, expect care that is coordinated, personalized and effective.
Our neurological experts at Saint Francis will complete a thorough assessment to determine the best treatment options for you, from physical therapy to pain management to spine surgery.
Our specialists provide leading-edge diagnostic imaging and advanced medical, surgical and rehabilitative technologies and treatment options. Plus, our experts offer the latest minimally invasive techniques for spine surgery, including tumor removal.
And, our experts serve more patients in more places, including Farmington, Poplar Bluff and Sikeston locations.
To put your back and neck pain behind you, call 833-49-SPINE
Disorders
The Neurosciences Institute offers leading-edge diagnostic imaging and advanced medical, surgical, and rehabilitative care for a wide range of neurological disorders, including:
Acute and Chronic Pain – Acute and chronic pain is defined as long-term, severe physical discomfort, including neck pain and back pain.
Alzheimer's Disease – This disorder of the brain causes dementia, which is the degeneration of intellectual functions, such as memory.
Amyotrophic Lateral Sclerosis – Amyotrophic lateral sclerosis (ALS), commonly known as Lou Gehrig's disease, is a motor neuron disease that causes muscle weakness and atrophy.
Brain Tumors – A brain tumor is an abnormal mass of cells that may spread to other parts of a body.
Cerebrovascular Issues – Cerebrovascular issues such as aneurysms and embolisms can be the product of hypertension, smoking, and diabetes.
Epilepsy – Epilepsy is a common disorder of the brain that causes recurring seizures.
Multiple Sclerosis – Multiple sclerosis (MS) is a disease of the central nervous system thought to be the result of a malfunction in the immune system. This progressive disease causes loss of myelin (the fatty substance that covers and protects nerves) in the brain or spinal cord and can cause deterioration in muscle strength, eyesight, speech, and movement.
Parkinson's Disease – Parkinson's disease is a disorder of the nervous system caused by the decay of dopamine-producing brain cells.
Spinal Disorders – Spinal disorders are the disturbance of normal functioning of the spinal column and/or spinal cord.
Stroke – Strokes occur when blood stops flowing to the brain. Conditions resulting from a stroke may include the loss of consciousness, speech, or partial movement.
Trauma – Traumas are serious neurological injuries caused by unexpected situations including automobile accidents. Symptoms of a mild traumatic brain injury include dizziness or vertigo, headaches or migraines, and confusion.
Advanced Technology
To diagnose and treat various conditions, the Neurosciences Institute uses a number of advanced technologies, including:
64-slice CT scanning
Autonomic testing
EEG monitoring (including 24-hour and video EEG)
MRI
Nuclear medicine
Open 1.5 tesla MRI scanning
PET/CT scanning
Specialized Centers and Clinics
To help our patients receive the best care, the Neurosciences Institute includes several specialized centers and clinics:
ALS Clinic
Concussion Clinic
MS Care Center
Neuromuscular Clinic
Pain Management Center
Spasticity Clinic
Stroke Center
Spasticity Clinic
The Spasticity Clinic at Saint Francis Medical Center provides comprehensive medical evaluation of patients with spasticity and carefully planned treatments to improve their physical function.
Intervention and Surgery
The Neurosciences Institute serves as the home base for some of the top neurological experts in the country. Our neurosurgeons have trained at some of the finest teaching hospitals and have performed thousands of procedures, including:
Artificial lumbar and cervical disk implants
Intradiscal electrothermal therapy
Kyphoplasty/vertebroplasty for compression fractures
Minimally invasive lumbar surgery
Spinal fusion
Stereotactic radiosurgery
Rehabilitation
The Neurosciences Institute's rehabilitation program begins the first day of the patient's stay, where we provide education and therapy modalities patients need to return to the community. Our program consistently exceeds national benchmarks for patient care and includes:
A balance program
A driver rehabilitation program
Home care
Neuropsychologists
Physical, occupational, and speech therapists
Work injury training
Ratings and Designations
Stroke Center
The Joint Commission:
Certificate of Distinction in Disease-Specific Care for Primary Stroke Treatment
Gold Seal of Approval™ for Stroke Care
Neurophysiology EEG Laboratory
American Board of Registration of Electroencephalographic and Evoked Potential Technologists (ABRET):
Laboratory Accreditation Board Certified
Spine Surgery
Anthem Blue Cross and Blue Shield of Missouri:
Blue Distinction Center for Spine Surgery