At the Saint Francis Heart Hospital, our team provides personalized care and innovative treatment for heart and vascular conditions. With our experienced providers and state-of-the-art facilities, your heart is in good hands.
Exceptional Heart and Vascular Care
In addition to the highest quality treatment, support from loved ones is a significant component of a successful healing and recovery process.
We are proud to bring award-winning cardiac and vascular treatment to southeast Missouri, so patients receive exceptional care close to home.
Nationally Recognized Awards and Achievements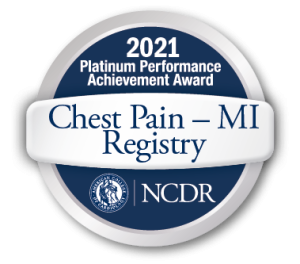 Cutting-Edge Cardiac Treatments
As a leader in cardiac innovations, Saint Francis Heart Hospital is proud to offer an array of treatments and procedures, from minimally invasive to complex care.
Cardiac Electrophysiology
A subspeciality of cardiology, electrophysiology is the study and treatment of irregular heartbeats, also known as arrhythmias. Electrophysiologists examine the heart's electrical system using various techniques and determine how to re-regulate a patient's heart rate and rhythm.
Common arrhythmias include atrial fibrillation and atrial flutter. Electrophysiologists can treat patients with tachycardias (fast heart rhythms) and bradycardias (slow heart rhythms).
Valve Replacements
Transcatheter Aortic Valve Replacement (TAVR)
When the aortic valve becomes highly diseased or blocked, a valve replacement is needed. As an alternative to open-heart surgery, Transcatheter Aortic Valve Replacement (TAVR) is a minimally invasive procedure allowing surgeons to implant an artificial aortic valve into the heart. TAVR allows for significantly shorter hospital stays and quicker recovery times.
Transcatheter Mitral Valve Repair (TMVR)
When the mitral valve becomes leaky, it may need to be repaired or replaced. If the patient is not a candidate for heart surgery, a transcatheter mitral valve repair (TMVR) may be a good option. This minimally invasive procedure allows surgeons to reduce the leak by placing a MitraClip along with the mitral valve. TMVR patients experience quicker recovery times and reduced hospital stays.
Device-Based Procedures
WATCHMAN™
For patients with non-valvular atrial fibrillation, the minimally invasive WATCHMAN™ procedure provides a reduced risk of stroke without the dangers associated with taking anti-coagulate medication (blood thinners). The WATCHMAN™ device is implanted in the left atrial appendage and helps reduce the formation of blood clots, ultimately lowering stroke risk.
Pacemakers
Pacemakers are devices that keep the heart from beating too slowly. These devices are implanted in the chest and monitor the heart's rhythm. If the heartbeat is too slow (bradycardia), the pacemaker will send small electrical signals to the heart to make it beat at a more stable pace.
Cardiothoracic Surgery
Saint Francis Heart Hospital is home to the region's only board-certified adult cardiothoracic surgeon. The cardiothoracic subspecialty provides treatment for diseases in the chest, including the heart, heart valves and vessels, esophagus, lungs and diaphragm.
Types of Surgeries Performed
Coronary artery bypass grafting
Heart valve repair and replacement
Open-heart surgery
Surgery to treat cancers in the organs of the chest
Vascular Treatment and Surgery
At Saint Francis Heart Hospital, we offer full vascular and endovascular disorders treatment. Home to the region's only board-certified peripheral vascular surgeons, Saint Francis Heart Hospital offers treatments for disorders of the arteries and veins outside the heart.
Vascular Disorders Treated
Aneurism treatment
Aortic aneurisms
Blood clots
Carotid artery disease
Deep vein thrombosis
Intestinal ischemia
Varicose veins
You Are in Experienced Hands
The cardiac and vascular team at Saint Francis Heart Hospital has extensive specialized training, years of experience and a true dedication to patient care and outcomes.
Our Difference
Experienced and diverse team of heart and vascular surgeons
Leader in electrophysiology treatment
Region's only board-certified cardiothoracic surgeon
Region's only two board-certified peripheral vascular surgeons
State-of-the-Art Facilities
Cardiac Intensive Care Unit (CICU) – Ten cardiac intensive care beds staffed by highly trained and specialized nursing staff.
There are five cardiac catherization labs including one electrophysiology (EP) lab and one hybrid endovascular lab.
Your Care at Saint Francis
Disorders Treated
Angina pectoris
Aortic stenosis/aortic insufficiency
Arrhythmia
Cardiomyopathy
Carotid artery stenosis
Congenital heart disease
Congestive heart failure
Coronary artery disease
Deep vein thrombosis
Endocarditis
Heart attack
Heart failure
Lymphedema
Mitral regurgitation
Mitral valve prolapse
Myocarditis
Pelvic varices
Peripheral arterial disease
Varicose veins
Other Heart Hospital Services
Catheterization labs
Cardiac Noninvasive Diagnostic Center
Arrhythmia Center
Heart Valve Center
Hybrid endovascular lab
Advanced diagnostics
Intervention and surgery
Cardiac risk assessments
Cardiac screenings
Educational programs
Nutrition Services