Heart Hospital Located in Southeast Missouri
Saint Francis Medical Center's Heart Hospital in southeast Missouri provides advanced diagnostics, leading-edge cardiac intervention and surgeries, emergency care, cardiac rehabilitation, risk assessments for heart disease, vascular disease screenings and heart education.
Our highly-skilled cardiologists and cardiothoracic and vascular surgeons at Saint Francis have achieved mortality rates that are 50 percent lower than the national average and discharge many patients within four days. As a leader in cardiac innovations, Saint Francis was the first Heart Hospital in southeast Missouri to perform cardiac catheterization. Our heart hospital offers the following:
50 private acute care beds
10 cardiac intensive care beds.
Five cardiac catheterization labs, including:

1 electrophysiology (EP) lab
1 hybrid endovascular lab
The EP lab is one of the first in the world to use the Philips EP Navigator System, a specialized imaging system.
Nationally-Recognized Cardiac Care
Our Heart Hospital is among the best hospitals in the nation for treating patients who have had a heart attack. The Medical Center has received the American College of Cardiology's NCDR ACTION Registry Platinum Performance Achievement Award for the sixth consecutive year. The Heart Hospital: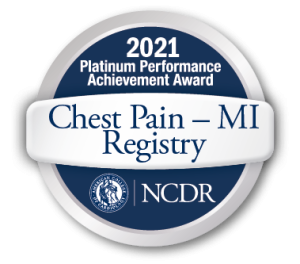 Is one of only 193 hospitals in the nation to earn this prestigious heart care honor in 2017.
Demonstrated sustained achievement in the ACTION registry for eight consecutive quarters, performing at the top level for specific performance measures.
Is being recognized for having reached aggressive goals in treating heart attack patients to standard levels of care as outlined by the American College of Cardiology/American Heart Association clinical guidelines and recommendations.
Saint Francis Medical Center is also a recipient of the Chest Pain – MI Registry™ Platinum Performance Achievement Award. The Medical Center has demonstrated sustained achievement in Chest Pain – MI Registry for eight consecutive quarters and met high performance standards for specific performance measures to receive this 2019 award.
The Centers for Disease Control and Prevention (CDC) estimates that more than 700,000 Americans suffer a heart attack each year. Fortunately, award-winning hospitals like Saint Francis are consistently saving lives and improving outcomes for these patients.
Disorders Treated
Our Heart Hospital in Cape Girardeau treats a wide range of heart and vascular disorders, including:
Angina pectoris
Aortic stenosis/aortic insufficiency
Arrhythmia
Cardiomyopathy
Carotid artery stenosis
Congenital heart disease
Congestive heart failure
Coronary artery disease
Deep vein thrombosis
Endocarditis
Heart attack
Heart failure
Lymphedema
Mitral regurgitation
Mitral valve prolapse
Myocarditis
Pelvic varices
Peripheral arterial disease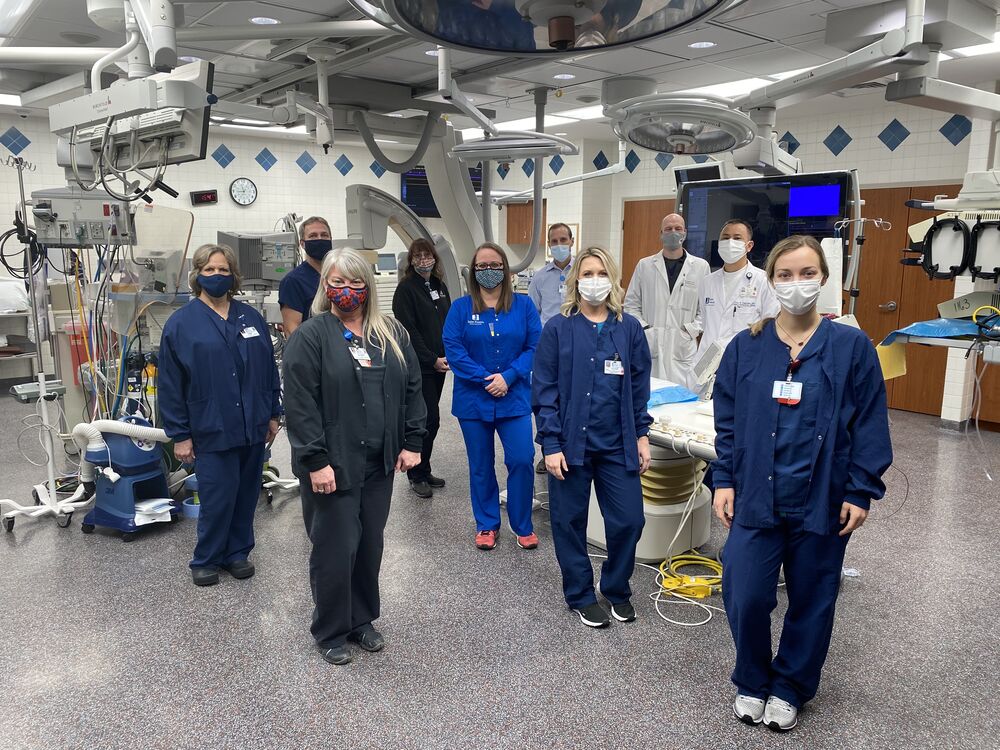 Treatment
Our Heart Hospital offers patients a wide array of treatments, including:
Angioplasty with stenting
Arterial bypass grafting
Carotid stenting
Coronary artery bypass grafting
Diagnostic coronary and peripheral angiography
da Vinci® Robotic surgery
Heart valve replacement
Intracoronary thrombectomy
Maze, TMR and heart port procedures
Pacemaker surgery
Stress testing
Transradial catheterization
Ratings and Accreditation
The Society of Cardiovascular Patient Care gave Saint Francis a full Cycle IV accreditation through 2018 and we were the first heart hospital in southeast Missouri to receive this accreditation.
Cardiac Intensive Care Unit
The Cardiac Intensive Care Unit (CICU) is a 10-bed unit that provides 24-hour care to patients diagnosed with cardiac conditions who have had open heart, vascular and thoracic surgical procedures and require intensive care, monitoring and nursing observation. CICU nursing staff is specially trained to manage surgical patients and provide high quality care. Admissions to the CICU come from transfers from acute care facilities, referrals from outside physicians and the emergency room.
Nutrition Services
What you eat can help you prevent heart disease. Nutrition Services at Saint Francis Medical Center offers you a team of specialty-trained dietitians to help you select foods for a healthier lifestyle. We also offer educational sessions focus on decreasing fat, cholesterol and sodium intake in your diet and making total lifestyle changes.
Other Heart Hospital Services
There are many programs and services offered at the Saint Francis Heart Hospital. These include:
Catheterization labs
Cardiac Noninvasive Diagnostic Center
Arrhythmia Center
Heart Valve Center
Hybrid endovascular lab
Advanced diagnostics
Intervention and surgery
Cardiac risk assessments
Cardiac rehabilitation
Cardiac screenings
Educational programs
Testimonials
Meet the Providers
Advanced Practice Providers: