Surgery at Saint Francis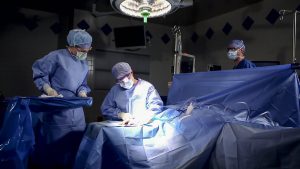 The Operating Room (OR) is a unique setting in healthcare. It depends on teamwork, communication and surgical conscience (ethics/morality) for anyone who chooses the OR as a career. Besides the obvious goal of providing repairs to bodies, another is to keep Saint Francis Healthcare System patients safe and comfortable.
"Our patients depend on us to be their voice and their advocate while they are in our care," said Lori DeBrower, RN, BSN, Manager of Surgical Services/Operating Room at Saint Francis. "When patients are in the Operating Room, they have an entire team whose sole focus is on them during that time they are in our care. For those moments, the entire team is there only for that patient."
Saint Francis has 52 surgeons with privileges to 21 Operating Room suites that host many different surgical cases. Saint Francis was first in the tri-state area to purchase and implement the da Vinci® Xi HD™ Surgical System. Saint Francis cares for those requiring ear, nose and throat surgeries including pediatric patients. It is also home to an advanced hybrid suite for cardiac and vascular care. Patients requiring neurosurgery seek services from one of four outstanding neurosurgeons on the Saint Francis team. The orthopedic population is cared for with surgeries ranging from reconstructive to total joint replacements. Saint Francis also provides general, oral, ophthalmology, gynecologic, plastic, urologic and podiatry surgical services to the community.
Teamwork is the groundwork for efficient, safe and quality patient care. "There are very few tasks that are completed individually in an Operating Room setting," said Brook D. Chavez, MSN, RN, RNFA, CNOR, Director of Surgical Services. "From counting surgical instruments, to prep work, all the way to cleaning, most tasks are completed as a team. This teamwork is so vital to our everyday work because it ensures that our communication is strong, further preventing errors."
Teamwork is critical to reducing Surgical Site Infections (SSIs), a priority for Saint Francis. SSIs increase the risk of mortality, increase medical costs exponentially and cause patient re-admissions. According to the Center for Disease Control (CDC) and Agency for Healthcare Research and Quality (AHRQ), SSIs occur in two to four percent of all patients undergoing inpatient surgical procedures. Because of hard work and a targeted effort, Saint Francis's SSI rate is well below that average at 0.48%.
In January 2018, the Operating Room set a goal of reducing turnover times (the time it takes to finish a surgery and start another). The team has done just that! At the start of this initiative, turnover times were on average 39 minutes. The first goal was set at 28 minutes which is the "median overall" as reported by OR Manager, Inc. The Operating Room team has continued to reduce this goal. The current goal is 22 minutes which puts the OR below some the of best turnover times in the nation, with a push to lower this goal one more time to a mere 20 minutes.
An efficient OR is a healthy OR. This efficiency is of utmost importance not just to the Healthcare System but to the patients who are served as well. The more efficient the OR, the more surgeries that can be performed. Patients are able to be scheduled sooner, and their wait time on the day of their surgery is greatly reduced.From minor outpatient to advanced procedures, the surgical specialists at Saint Francis Healthcare System are here for you.
From minor outpatient to advanced procedures, the surgical specialists at Saint Francis Healthcare System are here for you.