Saint Francis Welcomes Berkbuegler as Manager of Bio-Medical Services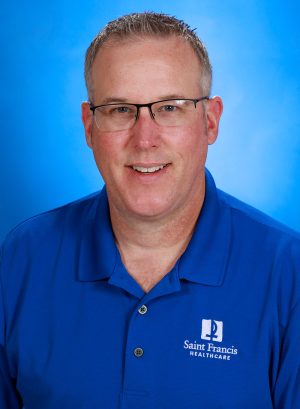 Saint Francis Healthcare System is pleased to welcome Chad Berkbuegler as Manager of Bio-Medical Services.
Berkbuegler was an Aviation Electronics Technician in the United States Navy beginning in 1996. Following his service, he gained training and certification in 200 MM Endura and 300 MM Endura from Applied Materials, followed by training and certification in STERRAD and EvoTech from Johnson & Johnson. He graduated Summa Cum Laude from Colorado Technical University in 2016 with a Bachelor of Science in business administration, with an emphasis in marketing. He joins Saint Francis Healthcare System from Ecolab, where he was a District Representative.
Berkbuegler will be responsible for coordinating the day-to-day activities of the Bio-Medical Services Department. This responsibility includes inspecting and preparing surveys, coordinating projects and installations and coordinating department meetings and presentations. He is an award-winning leader and engineer.