Ewasko Commissioned as United States Naval Reserve Health Care Administrator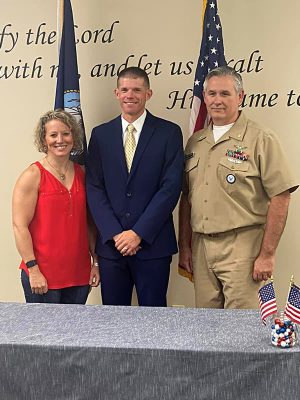 On July 22, Saint Francis ACO Administrator Matt Ewasko was one of four commissioned as a Health Care Administrator in the United States Naval Reserve. The commissioning process includes interviews with Officers currently serving in the Navy Medical Corps, physicals, letters of recommendation, reference checks, background checks, application paperwork and more. The Selection Board meets once a year to choose candidates to fill their open billets. Ewasko started the process for this opportunity in November of 2021 and was selected on April 15, 2022.
Health Care Administrators take administrative and leadership roles in various medical and dental treatment facilities and other naval enterprises worldwide. They may also work in subspecialty vocations, such as patient administration, medical logistics, medical data services, medical construction liaison, plans operations medical intelligence, manpower and personnel management, financial management, education and training, operations research and information systems management. Typical duty assignments for Health Care Administrators include Bethesda, MD; San Diego, CA; Jacksonville, FL or other locations across the globe.
"Many of the duties I will carry out in the Navy are similar to those I do every day at Saint Francis," Ewasko shares. "This role allows me to use the skills and knowledge I have gained while working at Saint Francis to guide and assist my fellow sailors while serving."
Ewasko also looks forward to the unique opportunity to expand his skills and knowledge to further improve his position as ACO Administrator with Saint Francis.
Congratulations, Matt, on this incredible honor and thank you for your commitment to serve our country!