The Last Saint Francis Nun Retires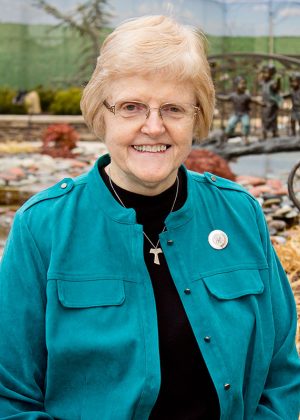 Sister Maureen Elfrink, the last remaining nun serving at Saint Francis Healthcare System, is retiring in August. Her roots are in southeast Missouri, but she has led a faith-filled career that has taken her far beyond this region.
Maureen Elfrink was born in St. Louis, and her family moved to Leopold in Bollinger County when she was a little girl. She attended St. Mary's High School (now Notre Dame Regional) in Cape Girardeau. While she attended high school, she worked as a nurse's aide at Saint Francis Hospital, then located on Good Hope Street. It was there Maureen decided her career path. Her interaction with the many sisters at Saint Francis, her love of taking care of people and her calling to devote her life to God were the foundation of her decision to become a nurse and a nun.
Officially a Franciscan Sister – Daughters of the Sacred Hearts of Jesus and Mary, she says it is a lot easier to call her a Wheaton Franciscan Sister. Her Motherhouse is located in Wheaton, Illinois, where Maureen arrived in 1954 for her novitiate, or Catholic formation, to become a nun and enter the convent. Sister Maureen became a nun first and then a nurse, graduating from the Marquette University College of Nursing in Milwaukee, Wisconsin in 1961.
During the 1960s and 1970s, Sister Maureen practiced nursing at St. Michael's and St. Joseph Hospitals in Milwaukee. Also, in the 1970s, Sister Maureen made her return to Saint Francis in Cape when Sister Virgilia invited her to be the nursing supervisor of the Saint Francis Mental Health Center. In the eighties, she returned to St. Michael's. At the end of the decade, she had the adventurous opportunity to volunteer for an assignment in the Franciscan Sisters Mission in Santaren, Pará, located in northern Brazil. She learned to speak Portuguese in a four-month course for missionaries who come to Brazil. She stayed until 2006, teaching local women who wanted to become members of the sisterhood community how to realize their dream.
Sister Maureen returned to the Motherhouse and cared for her fellow sisters until 2010 when she returned once again to Cape Girardeau and Saint Francis. For the past ten years, she has been a volunteer at the Healthcare System and at Catholic Social Ministries Food Pantry by St. Mary's Cathedral.
During her career, she has been involved in the move of the hospital from Good Hope to William Street. She has seen miraculous advances in healthcare, and she has learned during the current pandemic to be a user of Zoom. She said she never imagined that her call to service would have taken her on this path. Her life philosophy is to love others as Jesus taught us and to always practice kindness. Even a small act of kindness can profoundly impact another.
Sister Maureen's thoughts on being the last Saint Francis nun, "it is kind of sad, but the role of nuns being directly involved in healthcare has changed in recent years. I am proud to say I was part of that legacy."
Saint Francis wishes Sister Maureen the very best as she moves back to the Motherhouse in Wheaton in August. Sister Maureen can be contacted by mail:
Sister Maureen Elfrink, OSF
Franciscan Sisters
PO Box 667
Wheaton, IL 60187-0667