Peterson Joins Poplar Bluff Neurology Specialists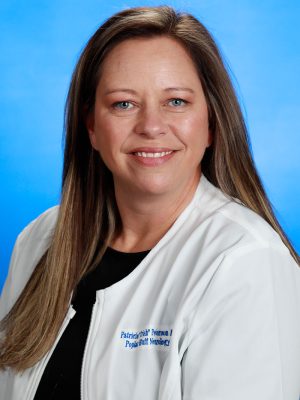 Saint Francis Healthcare System welcomes Trish R. Peterson, MSN, APRN, FNP-C, to Poplar Bluff Neurology Specialists.
Peterson received an Associate Degree in Nursing from Mineral Area College in Park Hills, Mo. in 2012. She earned a Bachelor of Science in Nursing from Central Methodist University in Park Hills in 2013. She earned a Master of Science in Nursing – Family Nurse Practitioner from South University in Savannah, Ga. in 2019.
She is licensed as an Advanced Practice Registered Nurse, Family Nurse Practitioner, Registered Nurse, Advanced Cardiac Life Support and Basic Life Support.
"Saint Francis has a remarkable reputation," said Peterson. "Integrity, faith, hope, joy and compassion are some of the values upheld by the organization. As those values are important to me, I feel the position will be an excellent fit."
Peterson is married and has a 10-year-old son and twin 2-year-old sons.
Poplar Bluff Neurology Specialists provide a full spectrum of neurological care for both inpatients and outpatients. Poplar Bluff Neurology Specialists is located at 2210 Barron Road Suite 112 in Poplar Bluff, Mo.