Saint Francis Auxiliary Honored in Annual Lunch: Volunteers Present Healthcare System with $120,000 in Funds Raised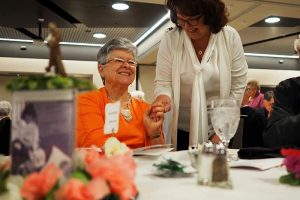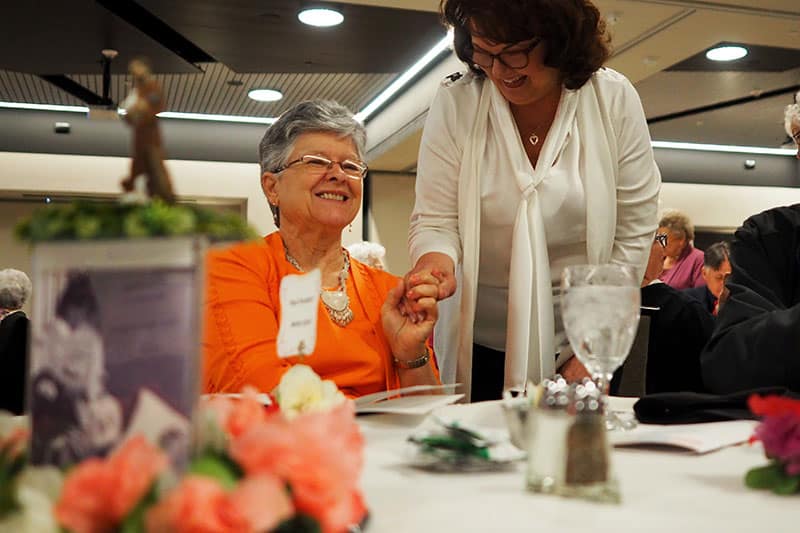 When people picture a healthcare system, they usually see doctors and nurses, with maybe some support staff. But that's an incomplete picture.
When people actually set foot in Saint Francis Medical Center, the first thing they see are volunteers like Betty Carroll.
"I guess I've just always been a people person," Carroll said, explaining why she works every week at the Medical Center front desk. "I like to be around people and greet people."
Volunteers and auxilians like Carroll were honored during an annual luncheon last Thursday at the Drury Plaza Hotel and Conference Center. During the event, Carroll was named Auxilian of the Year and the Saint Francis Auxiliary and Volunteer Services presented the Healthcare System with a check for $120,000, to be used, in part, to help fund dozens of local scholarships for students entering the healthcare field.
Don Kaverman, Chairman of the Saint Francis Healthcare System Board of Directors offered similar thanks in his remarks to those in attendance.
"Your efforts are essential to the Mission of Saint Francis Healthcare System," he said. "In addition to the quality care our patients receive, your generosity and compassion provide a human touch that sets us apart."
The Auxilian of the Year, Betty Carroll, said she works about six hours a week at the Medical Center and has done so for over a decade. The honor, she said, was a pleasant surprise.
"It just feels… wow," she said. "It's such a big, big honor. It's almost overwhelming."