Saint Francis Donates Sculpture to Library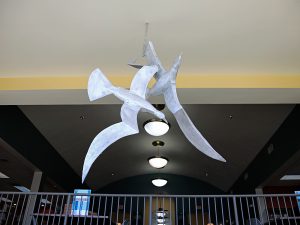 Saint Francis Healthcare System recently donated a sculpture to the Poplar Bluff Municipal Library Foundation. In mid-July, ownership of the piece, "Gulls," by Tom Runnels, was officially transferred from Saint Francis to the Foundation. It is now on permanent loan to the Poplar Bluff Municipal Library, housed directly above the circular staircase on the main floor.
Cletus Eugene "Tom" Runnels, a sculptor for 30 years, was a native of Bollinger County, Mo., and spent most of his life practicing his craft at the Cat Ranch just outside Marble Hill. He is best known for his welded metalwork as well as other paintings, drawings and murals. Runnels worked mostly on commission.
Begun in the mid-seventies, "Gulls" was commissioned by Kneibert Clinic and three of its physicians – Dr. Fred Caldwell, Dr. George Ladyman and Dr. William Traxel, Jr. For years, the piece hung in the lobby-staircase area of Kneibert Clinic. When the clinic became the property of the Saint Francis Healthcare System, ownership of the sculpture transferred to that entity. Saint Francis is now proud to present the piece as a gift to the Poplar Bluff Municipal Library Foundation, a financial planning agent for the library.
"Many patients and staff have enjoyed gazing at the beautiful sculpture in Kneibert Clinic since 1974. With the move of all staff and providers from the Kneibert Clinic building to Saint Francis Medical Center Poplar Bluff at 225 Physicians Park Drive, it is wonderful that the sculpture will remain in downtown Poplar Bluff for all to appreciate," said Ruth Ann Newman, Practice Manager at Saint Francis and longtime administration member of Kneibert Clinic.
"We are honored to receive this outstanding piece of art by such a prominent local artist," said Kathy Sanders, president of the Poplar Bluff Municipal Library Foundation. "Hopefully, the public will be able to enjoy it for years to come in its prominent location at the Municipal Library."
Plans are being made to honor this special gift with a reception at the main library on Sunday, October 16, from 2 to 4 pm. The public is invited to attend.