Medical Alarms
Available through Around the Clock, a medical alarm is an affordable, personal emergency response system provided as a service to patients and families:
Elderly residents living alone
Persons of any age who are disabled
Patients recovering from surgery or who face a lengthy recuperation period at home
Around the Clock is staffed 24 hours a day by personnel who provide assurance to users and their families.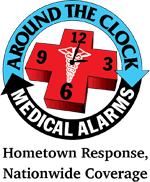 Around the Clock Medical Alarms
339 Broadway, Suite 148
Cape Girardeau, MO 63701
aroundtheclockmedicalalarms.com
573-334-7233 or 877-449-5566
Tele-Care
Tele-Care is a service that provides a reassuring, daily phone call to Saint Francis patients around southeast Missouri who live alone, are retired, widowed, or recovering from an illness.
About The Saint Francis Medical Center Auxiliary
The Saint Francis Auxiliary is a group of lay volunteers from the community whose purpose is to raise funds for the Medical Center and promote a cooperative relationship between residents of Cape Girardeau and Saint Francis. The Auxiliary was founded in 1959 and has raised more than $1 million in support of Medical Center projects and programs.
In 2011, the Auxiliary received the Auxiliary of the Year–Category III award from the Missouri Hospital Association for the fourth time. This important award recognizes the contributions of hospital auxiliaries with 151-300 active members.
Contact
To learn more about Medical Alarms and Tele-Care or to enroll in either service, call 573-331-5117.