Healthcare That Comes to You!
Mobile Wellness, Saint Francis's 45′ mobile healthcare coach, houses a state-of-the-art 3D mammography unit as its primary service offering. Mobile Wellness will travel the region 45-50 weeks of the year, removing barriers to care and ensuring residents across southeast Missouri have accsess to life-saving preventative breast cancer screenings, as well as other necessary healthcare services. See below for upcoming dates and locations.
Need for Service
Breast cancer is one of the top four cancers affecting our region. One in eight women may be diagnosed with breast cancer in their lifetime.

The 2022 Community Health Needs Assessment conducted by Saint Francis for Cape Girardeau, Stoddard, Butler and Scott counties identified "Cancer" and "Preventative and Screening Services" as two of the top priorities to address. Additionally, the assessment found poverty, transportation and healthcare availability and accessibility are deterrents to receiving screenings and needed healthcare.
Mobile Wellness will address these priorities by bringing needed services to our patients in their home communities.
Mammography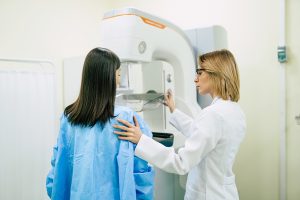 Screening mammography is the best preventative tool for detecting breast cancer in its earliest and most treatable stages. A yearly screening mammogram beginning by age 45 for those women with average risk is the best prevention for breast cancer. Detecting breast cancer early, and receiving high-quality, patient-centered treatment, are two of the most important strategies for reducing mortality from breast cancer.
The 3D mammography unit on Mobile Wellness offers patients the most state-of-the-art equipment for the detection of breast cancer.
Other Services
In addition to mammography, Mobile Wellness plans to offer other preventative screenings and wellness services as needed.
Upcoming Dates and Locations
Preventative screenings are covered by insurance, including Medicaid. Patients without insurance may qualify for a free screening through Dig for Life and the Saint Francis Foundation.
Advance
Tuesday, October 3
9 am – 3:30 pm
Cross Trails Medical Center
307 Gabriel Street
Advance, MO 63730
Please call 573-331-3952 to schedule
Cape Girardeau
Friday, October 6
10 am – 3 pm
Osage Center
1625 N. Kingshighway
Cape Girardeau, MO 63701
Please call 573-331-3952 to schedule
---
Saturday, October 7
8 am – 2 pm
Color Dash
A.C. Brase Arena Park
410 Kiwanis Drive
Cape Girardeau, MO 63701
Please call 573-331-3952 to schedule
---
Monday, October 9
9 am – 3:30 pm
Cross Trails Medical Center
408 S Broadview Street
Cape Girardeau, MO 63703
Please call 573-331-3952 to schedule
Dexter
Wednesday, October 4
8:30 am – 3:30 pm
Bank of Advance
1428 West Business Highway 60
Dexter, MO 63841
Please call 573-331-3952 to schedule
---
First Wednesday and Thursday of each month
8:30 am – 3:30 pm
Saint Francis Clinic Dexter
1212 Saint Francis Drive
Dexter, MO 63841
Please call 573-331-3952 to schedule
Jackson
Wednesday, November 8
8:30 am – Noon
Jackson Civic Center
381 E. Deerwood Drive
Jackson, MO 63755
Please call 573-331-3952 to schedule
Marble Hill
Monday, October 2
9 am – 3:30 pm
Cross Trails Medical Center
109 MO-51
Marble Hill, MO 63764
Please call 573-331-3952 to schedule
McCracken County, KY
Tuesday, October 17 – Thursday, October 19
McCracken County Health Department
916 Kentucky Ave
Paducah, KY 42003
Please call 573-331-3952 to schedule
Poplar Bluff
Friday, September 29
10 am – 2 pm
First United Methodist Church
500 North Main Street
Poplar Bluff, MO 63901
Please call 573-331-3952 to schedule
Scott City
Wednesday, October 11
6:30pm – 10:30 pm
HAVCO
2019 Havco Drive
Scott City, MO 63780
Please call 573-331-3952 to schedule
---
Thursday, October 12
7 am – 1 pm
HAVCO
2019 Havco Drive
Scott City, MO 63780
Please call 573-331-3952 to schedule