Kaywan (Kev) Gamadia, DO, Neurosurgeon with Cape Spine and Neurosurgery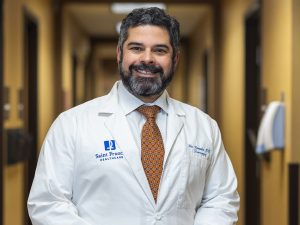 When it comes to spinal back pain, there are many options for treatment. Choosing the treatment plan best for you can be overwhelming. Marilyn Schott sought the care of Kev Gamadia, DO, neurosurgeon with Cape Spine and Neurosurgery, a Saint Francis Medical Partner, to help guide her through the best treatment plan for her.
Schott's journey began in 2017, when she started to experience severe pain down her right leg. Chiropractic care was no longer helping, and she was referred to the Saint Francis Pain Management Clinic. There, Schott was given various treatment options to try to alleviate her pain including pain medication and injections. These treatments helped but still the pain persisted. A consultation with a neurosurgeon was recommended.
Schott was not familiar with any of the providers at Cape Spine and Neurosurgery. Luckily, one of her relatives had recently been seen by Gamadia and expressed to Schott how well he was feeling and how great of an experience he had as a patient. After hearing how well Gamadia took care of her relative, Schott decided to schedule a consultation.
Right away, Gamadia knew what was causing Schott's discomfort and explained to her that the pain she was experiencing was from her sacroiliac joint. In September of 2017, Gamadia performed a Sacroiliac Joint Fusion on Schott's right side. Schott felt immediate relief following the surgery. In June of 2018, Schott felt the same pain on her left side and returned to Gamadia for a Sacroiliac Joint Fusion on her left side as well.
In October 2018, Schott underwent a surgery for spinal stenosis which occurs when the spinal column narrows and compresses the spinal cord. At this time, Gamadia advised Schott that she really needed a five-hour fusion operation on two areas of her lower back for the greatest pain relief. Schott had concerns about the length of the proposed surgery. Recognizing this, Gamadia was able to break it up into two segments to decrease anesthesia time. Schott was more comfortable with this alterative and underwent this surgery in March 2019. "He really takes your needs into consideration and guides you through the best treatment plan. He is extremely professional," recalled Schott. "He listened to my concerns and was honest with his recommendations."
Schott appreciated how well Gamadia worked with her through every surgery. "I am very involved in the SEMO District Fair. Dr. Gamadia was very understanding about working around my schedule and made sure my surgeries did not interrupt my daily life," said Schott. "He made sure I did not miss any of the Fair activities which was very important to me."
After the surgeries, Schott went to Physical Therapy during her recovery. She was very thankful for Gamadia and his team for helping her even through the recovery process. "My husband had to change my bandages which was a new experience for him," shared Schott. "Dr. Gamadia's staff thoroughly walked him through it and answered all his questions. He was very grateful for them as well."
Schott was thankful for Gamadia's personalized approach to finding her the best treatment plan based on her lifestyle and apprehensions. She felt as if they worked as a team to relieve her pain. "He listened and was very sensitive to my concerns. Together, we came up with a workable plan to tackle all my problems," Schott exclaims. "Dr. Gamadia is very knowledgeable, skillful, honest and caring in what he does. I am very appreciative of his special attention in working around my lifestyle. It is hard to express my gratitude for what Dr. Gamadia has done for me. He is really an outstanding doctor."
Schott now says she feels no pain at all. "After the surgery, I had no pain and I still do not to this day. I was just shocked that I was pain free and back to my regular life after all I had been through," said Schott.
---
Cape Spine & Neurosurgery offers greater access to top-notch neurosurgical care for residents in the southeast Missouri region. It provides diagnosis and a full spectrum of surgical interventions for complicated disorders of the brain, spine and nerves.
To make an appointment with Dr. Gamadia or any of our skilled neurosurgeon providers, call 573-331-5677 or learn more on our Neurosciences Institute page.