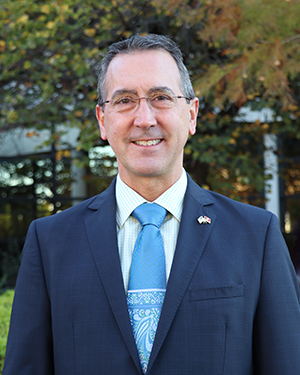 Gerry Salter, MBA, PT, joined Saint Francis Healthcare System in 1995, and currently serves as Vice President – Surgical & Procedural Specialties. He provides administrative leadership for a myriad of specialty practices and services, including Cape Cardiology Group, Cape Diabetes and Endocrinology, Cape ENT Group, Cape Gastroenterology Specialists, Cape Pain Management, Cape Pulmonology and Sleep Medicine, Cape Thoracic and Cardiovascular Surgery, Cardiac and Pulmonary Rehab, Center for Digestive Diseases, Fitness and Wellness, Inpatient and Outpatient Rehabilitation Services, Neurophysiology, Neuropsychology, Pain Center, Pastoral Care, Public Safety, Specialty Clinic, Supply Chain, Vein and Laser Center and Wound Healing and Hyperbaric Center.
Throughout his time at Saint Francis, Salter has served as the Service Line Director for Orthopedics and Vice President of Professional Services. He was instrumental in the creation of a $44 million medically-integrated fitness center and a $127 million hospital expansion at Saint Francis Medical Center, and also helped implement the opening of a multi-specialty physician clinic.
Salter, who served in the U.S. Marine Corps, is a former certified athletic trainer and certified strength and conditioning specialist.
He serves on the Board for the Catholic Social Ministries Food Pantry, a joint effort between Cathedral of St. Mary of the Annunciation Parish and Old St. Vincent's Chapel of Ease in Cape Girardeau.
Salter earned a Bachelor of Science in physical therapy from the University of Massachusetts-Lowell in Lowell, Massachusetts. He later completed his Master of Business Administration from Regis University in Denver.