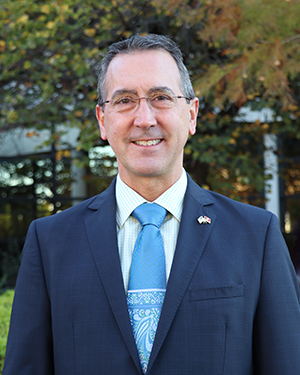 Gerry Salter joined Saint Francis Medical Center in 1995, serving as the Director of Orthopedics from 2006 to 2015 and responsible for the operations of a 13-department strategic business unit that included acute inpatient rehabilitation, concussion clinic, inpatient therapy, orthopedics, outpatient therapy and psychology. He served as Vice President – Professional Services from 2015-2019 overseeing a full range of services including Cancer, Emergency and Trauma, Fitness and Wellness, Hospitalists, Imaging and Womancare, Inpatient and Outpatient Therapy and Psychology, Laboratory and Pathology, Orthopedics, Pharmacy and Pulmonology.
He currently serves as Vice President for Specialty Practices. In Salter's current role, he provides administrative leadership for Advanced Orthopedic Specialists, Cape Cardiology Group, Cape Care for Women, Cape Diabetes and Endocrinology, Cape ENT Group, Cape Gastroenterology Specialists, Cape Gynecology Oncology, Cape Medical Oncology, Cape Neurology Specialists, Cape Neurosurgical Associates, Cape Pain Management, Cape Pulmonology & Sleep Medicine, Cape Radiation Oncology, Cape Spine and Neurosurgery, Cape Thoracic and Cardiovascular Surgery, Cardiac and Pulmonary Rehab, Center for Digestive Diseases, Fitness and Wellness, Infusion Center, Inpatient and Outpatient Rehabilitation Services, Inpatient Rehabilitation Facility, Neurophysiology, Pain Center, Rehab Medical, Respiratory Care, Security, Sleep Disorders Center, Specialty Clinic, Vein and Laser Center and Wound Healing and Hyperbaric Center.
Salter, who served in the U.S. Marine Corps, is also a former certified athletic trainer and certified strength and conditioning specialist. He earned a Bachelor of Science in physical therapy from the University of Massachusetts-Lowell in Lowell, Mass. He later completed his Master of Business Administration from Regis University in Denver, CO. He was instrumental in the creation of a $44 million medically-integrated fitness center and a $127 million hospital expansion at Saint Francis, and also helped implement the opening of a multispecialty physician clinic.
He has served as an interim Professor at Southeast Missouri State University in Cape Girardeau, and has lectured for the orthotics and prosthetic program at Northwestern University in Chicago. Salter is a regular presenter at national healthcare conferences as well as regional workshops and community seminars.