Epilepsy Monitoring Unit at Cape Neurology Specialists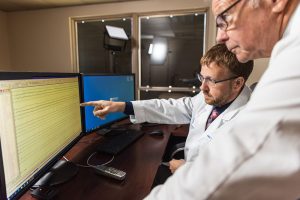 Southeast Missouri native, Mark E. Farrenburg, MD, epileptologist at Cape Neurology Specialists, is excited that an epilepsy monitoring unit (EMU) is now available at Saint Francis – the only EMU operating between St. Louis and Memphis.
Epilepsy is classified as a pathology of the brain that causes a tendency to have recurrent seizures, and can come from different areas of the brain with multiple methods of treatment. One notable way of characterizing and locating epilepsy is through the use of an epilepsy monitoring unit.
"The epilepsy monitoring unit is used for two main purposes: to characterize seizures and to localize seizure onset to determine surgical options," Farrenburg says. Diagnosis of epilepsy occurs when a person has two or more unprovoked seizures in their lifetime. Diagnosis for epilepsy can also occur when a person has one seizure and a high likelihood of having another based on MRI, EEG and other testing. Approximately 1 percent of the population has epilepsy, which makes the epilepsy monitoring unit a major advancement for the area.
"Any person who has a seizure should see a neurologist, even if it is a first time seizure," Farrenburg advises. Farrenburg hopes that the epilepsy monitoring unit will help those with untreated epilepsy seek the care they need to potentially become seizure free. "If you are still having seizures, or if no medication seems to work, there is still hope. Sometimes patients need medication change, medical optimization or epilepsy surgery, and I can help them get those answers with the goal of seizure freedom in mind."
---
Cape Neurology Specialists provide diagnosis, management and treatment of complicated disorders and injuries of the nervous system – the brain, spine and nerves. Call 573-332-1972 or visit your primary care doctor to be referred to Dr. Farrenburg.