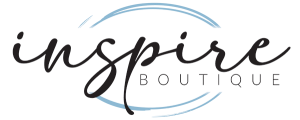 Get To Know Us!
At Inspire Boutique, we inspire others to "purchase with a purpose." When you shop with us, not only will you find amazing, one-of-a-kind items – women and children's clothing, bath and body items, jewelry, homewares, floral arrangements, greeting cards, religious items and other gifts – your money makes a difference in the lives of patients in our local community and people around the world.
All Boutique purchases benefit the Saint Francis Foundation and its Mission to support Saint Francis Healthcare System is its ministry of healing, wellness, quality and love. Learn more about the Foundation.
Inspire Boutique is operated by the Saint Francis Auxiliary and is staffed primarily by volunteers, people who give of themselves to help make Saint Francis a better place for patients, colleagues and the community. You can learn more about the Saint Francis Auxiliary here.
Location and Hours
Inspire Boutique is conveniently located in the Tower Lobby (Entrance 1) at Saint Francis Medical Center.
Open Monday – Friday, 8:30 am-4:30 pm
Order a Gift
Floral and unique gift orders can be placed by calling 573-331-5489 and will be delivered by the Boutique Coordinator. Deliveries are made to inpatient rooms and Medical Center departments. Please allow one hour for delivery during normal business hours. All delivery requests must be made before 4 pm. Gift wrapping is available.
Featured Brands