Saint Francis Awarded Advanced Primary Stroke Center Certification from The Joint Commission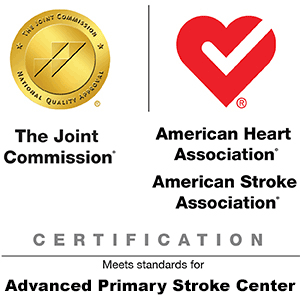 Saint Francis Healthcare System has earned The Joint Commission's Gold Seal of Approval® and the American Stroke Association's Heart-Check mark for Advanced Primary Stroke Center Certification.
As a result of continued compliance with national standards and extraordinary outcomes, The Stroke Center has received the Joint Commission's Certificate of Distinction in Disease-Specific Care for Primary Stroke Center Certification for the eighth time. It was initially awarded in 2005.
Saint Francis Healthcare System underwent a rigorous, unannounced onsite review in November 2019. During the visit, a team of Joint Commission reviewers evaluated compliance with related certification standards including program management, supporting self-management, and delivering and facilitating clinical care. Joint Commission standards are developed in consultation with health care experts and providers, measurement experts and patients. The reviewers also conducted onsite observations and interviews.
"Advanced Primary Stroke Center Certification recognizes health care organizations committed to fostering continuous quality improvement in patient safety and quality of care," says Mark Pelletier, RN, MS, chief operating officer, Accreditation and Certification Operations, and chief nursing executive, The Joint Commission. "We commend Saint Francis Healthcare System for using certification to reduce variation in its clinical processes and to strengthen its program structure and management framework for stroke patients."
"We congratulate Saint Francis Healthcare System for this outstanding achievement," says Nancy Brown, chief executive officer, the American Stroke Association. "This certification reflects its commitment to providing the highest quality of care for stroke patients."
The Stroke Center is staffed with a highly experienced team of neurologists, neurosurgeons, neuroradiologists, nurses, technicians, technologists and rehabilitation specialists who work closely with pre-hospital services like Emergency Medical Services and use the latest advancements in medical technology to expedite diagnosis and speed recovery.
For more information, please visit The Joint Commission website.