Saint Francis Achieves 300th TAVR Milestone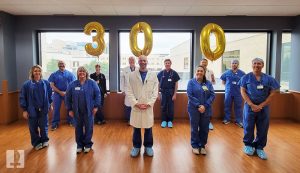 Saint Francis Healthcare System's Heart Valve Center achieved a momentous milestone this month performing its 300th transcatheter aortic valve replacement (TAVR) since the program began September 2014.
TAVR is a safer alternative to open-heart surgery, offering patients with severe aortic stenosis a minimally invasive surgical option. Patients benefit from quicker recovery times and significantly less pain and discomfort.
"Our team is honored for the recognition of our 300th TAVR milestone! We continually strive to be good stewards to these amazing, advanced technologies in order to serve our community and give care where it should occur – close to home," says Steven J. Joggerst, MD, interventional cardiologist at Cape Cardiology Group, a Saint Francis Medical Partner. "The minimally invasive TAVR procedure allows patients to recuperate quickly with a shorter hospital stay. It is rewarding to provide this level of care to our patients."
Aortic stenosis occurs when the aortic valve narrows, obstructing blood flow from the heart. Patients with severe aortic stenosis usually need surgery to replace the valve, but some are not good candidates for open-heart surgery. TAVR involves threading a catheter through an artery, usually in the leg, to replace the diseased aortic valve. This option can also be used for patients with aortic stenosis or insufficiency who have undergone prior aortic valve replacement as a way to avoid another open-chest surgical procedure as well as those who have undergone mitral valve replacement and are experiencing mitral valve regurgitation or stenosis.
"We are extremely proud to have reached this milestone," says Jennifer Cotner, MSN, APRN, ACNP/AGACNP-BC, coordinator at the Saint Francis Heart Valve Center. "We believe offering this procedure, as well as other structural technologies such as transcatheter mitral valve therapies, including repair and replacement, and left atrial appendage occlusion therapy with Watchman, are great options for our patients and demonstrate our ongoing commitment to providing exceptional cardiac care."
Saint Francis Healthcare System's Heart Hospital provides advanced diagnostics, leading-edge cardiac intervention and surgeries, emergency care, cardiac rehabilitation, risk assessments for heart disease, vascular disease screenings and heart education. As a leader in cardiac innovations, Saint Francis was the first Heart Hospital in southeast Missouri to perform cardiac catheterization.