Debbie Phillips Retires After More Than 30 Years with Saint Francis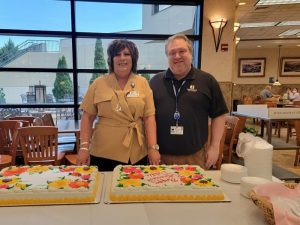 After working at Saint Francis Healthcare System for more than 37 successful years, Deborah Phillips retired this week.
Phillips began her career at Saint Francis as the Inventory Buyer for our warehouse and transitioned to the role of Buyer for Radiology, Laboratory and Catheterization Lab. Phillips took on the role of Senior Buyer and later her current role as Purchasing Manager.
Over the years, Phillips has enjoyed the major advancements in technology within her department. Discussing her time at Saint Francis and what she enjoyed the most from day-to-day, Phillips said, "Procurement is an area that continuously changes and is always challenging. You never quit learning about the rapid advancement of products and how they relate to quicker turnaround times for our patients and their treatment. Also, the advancement in Supply Chains and working with a Group Purchasing Organization has offered us vast knowledge to help reduce our cost for supplies that are then passed on to the patients we serve."
Reflecting on the relationships she's made while serving at Saint Francis, Phillips said, "There are so many colleagues who are truly dedicated to their job and go above and beyond. I have been blessed to be a part of this team. I have made so many lifelong friendships and Saint Francis has become my second family. So many colleagues and outside sales representatives have shared their many milestones including marriages, children, loss of loved ones and life stories that have connected us beyond a working relationship."
Phillips is very excited for the next chapter in her life. After retirement, she plans to enjoy spending time with her 95-year-old mother, husband, two children and five grandchildren, as well as her church family. She also plans to spend more time gardening in her flower beds, cooking from scratch and relaxing.
Congratulations on your retirement, Debbie!