First Baby of 2020 Born at Saint Francis' Family BirthPlace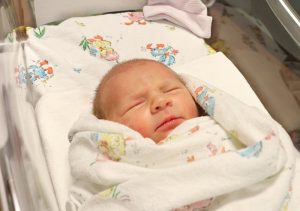 A baby boy who made his debut into the world at 4:36 a.m. is the first baby of 2020 born at Saint Francis Healthcare System's Family BirthPlace.
Proud parents Landon Johnson and Savannah Shaffer welcomed their first child, Ari Thomas Johnson, early on January 1. The Marble Hill couple says baby Ari is happy and healthy and doesn't cry much.
Certified Nurse Midwife Megan Keeney, RN, FNP-BC, CNM, delivered 7-pound, 10-ounce, 19 ¾" long Ari.
Baby Ari has several cousins to grow up with as he is the fifth of six grandkids on his mother's family's side with a cousin on the way. He is the second grandchild on his father's side.
Landon and Savannah say they received great medical care at the Family BirthPlace and everyone has been very helpful.
The Family BirthPlace finished 2019 with 1184 babies including 22 sets of twins and one set of triplets.
Saint Francis Medical Center's Family BirthPlace offers expecting parents an individual family-centered birthing experience in a comfortable, medically advanced environment. The Family BirthPlace features the region's first Level III Neonatal Intensive Care Unit caring for premature and critically ill newborns; a highly experienced staff with more than 200 combined years of experience; and comfortable surroundings with homelike amenities, including the Family Room, a 500-square-foot hospitality suite that features the comforts of home used by families awaiting the arrival of their newest addition.