First Baby of 2019 Born at Saint Francis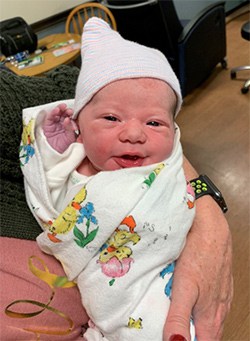 Saint Francis Healthcare celebrated the delivery of its first baby of 2019. At 5:01 p.m. on Tuesday, January 1, 2019, a baby girl was welcomed into the world by proud mother Logan Wessell of Gordonville, Mo., and the caring staff at Family BirthPlace.
Dr. Grant D. McWilliams, DO, FACOG, obstetrician/gynecologist, Saint Francis Medical Partner, delivered 6-pound, 10-ounce, 19-inch Willow Ann.
The Family BirthPlace saw several common and unique names through 2018. The most common girl name was Caroline. The most common boy name was Noah. Unique names on the list for 2018 were Alakai, Mackenslee, and Chrisiah for girls and Dolan, Kipton, and Peregrine for boys.
The Family BirthPlace ended 2018 with 1056 births.
Saint Francis Medical Center's Family BirthPlace offers expecting parents an individual family-centered birthing experience in a comfortable, medically advanced environment. The Family BirthPlace features the region's first Level III Neonatal Intensive Care Unit caring for premature and critically ill newborns; a highly experienced staff with more than 200 combined years of experience; and comfortable surroundings with homelike amenities, including the Family Room, a 500-square-foot hospitality suite that features the comforts of home used by families awaiting the arrival of their newest addition.