The Seventh Annual Friends Gala Raises More Than $323,000 for Saint Francis Foundation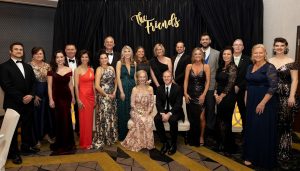 The Seventh Annual Friends Gala event was held Saturday, March 4, at Drury Plaza Conference Center, and raised a record-breaking $323,000 plus for Saint Francis Foundation.
Stacy Huff, Executive Director of Saint Francis Foundation, said of the event, "The money and resources we raise during the Friends Gala will provide hope and healing to thousands of cardiac and cancer patients undergoing treatment at Saint Francis over the coming year, helping them to regain optimal health after a major life event. The needs in our community are tremendous, so the outpouring of support is deeply appreciated."
Contributions raised each year benefit the CancerCare and CardiacCare funds offered through Saint Francis Foundation. The CardiacCare fund provides assistance with cardiac rehabilitation and other necessary services and equipment for patients unable to afford them. The CancerCare fund helps cancer patients in need with nutritional supplements, medicine, transportation and lodging.
"Generous sponsors and volunteers make The Friends Gala possible, and we are truly humbled by their commitment and support," said Nicole Nguyen, Gala Chair; Lindsay Bingaman, The Friends President and Gala Co-Chair and Christy Farrow, Gala Co-Chair.
For more information about The Friends of Saint Francis or to reserve a table for The 2024 Friends Gala, call Nathan Gautier, 573-331-3187 or visit foundation.sfmc.net.