Saint Francis First in Region to Offer Immediate CT Results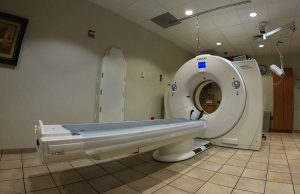 Saint Francis Healthcare System's Computed Tomography (CT) machine has undergone a software update enabling it to be the first in the region to offer rapid results on perfusion of the head with results available immediately.
CT Perfusion imaging shows which areas of the brain are adequately supplied with blood and provides information on the amount of blood flow to the brain.
"We are very proud of being able to provide one of the most advanced technologies for stroke patients," said Ginny Ginithan, Director of Womancare & Imaging Services at Saint Francis. "We continuously work toward better access to high quality care for our community and the surrounding region. This technology will allow us the ability to care for qualifying patients right here at home, rather than burdening them with traveling to St. Louis. That means we are privileged to carry out our mission in the communities we serve."
"Around 60 percent of the patients we currently send to St. Louis for this scan will be able to be treated here to keep care local," said Ginny W. Ginithan, Director of Imaging Services at Saint Francis.
The update is expected to become a requirement of The Joint Commission in the next two years.