Macharia Joins Cape Cardiology Group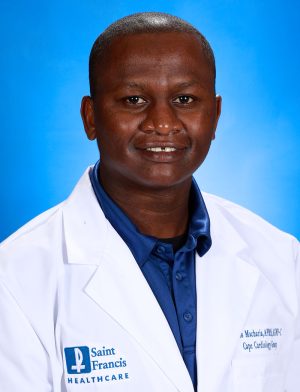 Saint Francis Healthcare System is pleased to welcome Amos Macharia, MSN, AGNP-C to Cape Cardiology Group / Cardiovascular Services.
Macharia earned his Master of Science in Nursing degree in Adult Gerontology Primary Care Nurse Practitioner from Walden University in Columbia, MD from 2018-2019. He is board certified by the American Academy of Nurse Practitioners Certification Board.
Cape Cardiology Group provides comprehensive cardiovascular care and cutting-edge treatment for heart-related diseases and disorders to patients in Cape Girardeau and southeast Missouri. As a medical partner of Saint Francis, Cape Cardiology's proximity allows for collaboration between medical groups in Cape Girardeau that further improve patient outcomes.
Cape Cardiology Group is located at 211 Saint Francis Dr, Entrance 7, Cape Girardeau, MO.
To learn more about Amos Macharia, call Cape Cardiology Group at 573-331-3333.