Saint Francis Foundation Welcomes Four New Board Members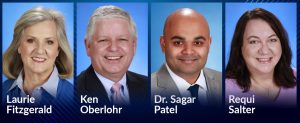 Saint Francis Foundation welcomes four new members to the Board of Directors – Laurie Fitzgerald; Ken Oberlohr; Sagar C. Patel, MD; and Requi Salter.
Laurie Fitzgerald serves as Manager of Business Transformation, an information technology position at Saint Francis Healthcare System. Fitzgerald was inspired by the heartfelt generosity of her colleagues and the community and wanted to avail herself of opportunities to be part of the giving. Laurie and her husband, Bob, live in Cape Girardeau.
Ken Oberlohr serves as President of First Missouri Insurance Group. Oberlohr brings extensive Foundation experience with his recent involvement with The Friends of Saint Francis Board of Directors. He served six years and finished his term as president in December 2020. Oberlohr and his wife, Carol, live in Cape Girardeau.
Sagar C. Patel, MD, radiation oncologist with Cape Radiation Oncology, a Saint Francis Medical Partner, and the Medical Administrative Officer for the Oncology Service Line, cherishes the opportunity to provide exceptional cancer care to residents of the region at the Saint Francis Cancer Institute. Patel is very excited to apply his passion to serve others through his experiences with the Saint Francis Foundation Board. Patel enjoys writing and spending time with his family, especially his parents and his sister.
Requi Salter is a community activist and has been married to her husband, Gerry, for twenty-five years, and they have six children. Salter has been a community volunteer for more than two decades for various organizations that help animals and people. Salter and her family reside in Cape Girardeau.
The Board of Directors oversees leadership, planning and fiduciary activities of the Saint Francis Foundation. The Foundation's Mission is the development, management and distribution of gifts to support Saint Francis Healthcare System in its ministry of healing, wellness, quality and love inspired by faith in Jesus Christ.