Smith Promoted to Manager of Patient Care Resources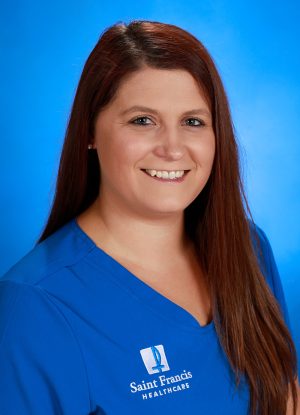 Saint Francis Healthcare System is pleased to announce that Krystle Smith, RN, BSN has been promoted to Manager of Patient Care Resources.
As Manager of Patient Care Resources, Smith is responsible for Shift Administrators, the Transfer Center, Staffing Office, Telemonitor Technicians, Patient Care Technicians, Float Pool Patient Care Associates and Transporters.
Smith began her career at Saint Francis Healthcare System in 2013 when she started as a graduate nurse on the Progressive Care Unit. She became Lead Charge Nurse in October 2016 until December 2018 when she transferred to Performance Improvement.
She earned her Licensed Practical Nurse degree in 2012 and her Associate's Degree in Nursing in 2013 from Shawnee Community College. Smith completed her Bachelor of Science in Nursing from Chamberlain College of Nursing in 2017. She is Cardiopulmonary Resuscitation (CPR) and Advanced Cardiovascular Life Support (ACLR) certified.
Smith spends the majority of her spare time with her husband and 2-year-old daughter. They love to take beach vacations. She also likes to craft.