Talbert Retires After 57 Years of Medicine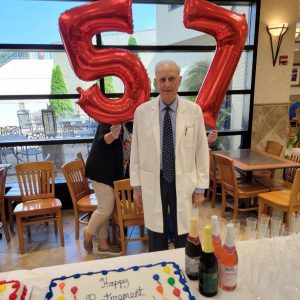 Clifford R. Talbert Jr., MD, FACC, retired from Cape Cardiology Group, a Saint Francis Healthcare System Medical Partner, after 57 years of medicine on Thursday, June 30, 2022.
Talbert was the first to practice many life-saving techniques in southeast Missouri, including being one of the first to surgically implant a pacemaker into a patient. He also introduced cardiac catheterization and coronary angiography to the region. Additionally, Talbert was on the cutting edge of research for the balloon pump device, laser coronary angioplasty and coronary sinus retroperfusion.
Graduating from Washington University Medical School in 1959, Talbert completed his residency at Barnes-Jewish Hospital of St. Louis in 1962 and fellowship at University of Missouri Columbia School of Medicine in 1963. After his service to the military, he began his career as a Cardiologist in July 1965 at Saint Francis Medical Center.
Talbert said when he first started practicing, "cardiology was in its infancy." There were almost no tools available to diagnose or treat the cardiac patient. "There were no blood thinners for heart disease," he said. "There was no way to stop a heart attack. There was no cardiac monitoring available. The hospital had EKG, but no stress testing." Talbert has seen healthcare evolve tremendously since he first started practicing.
"As new advances came along, I worked to get certain procedures or equipment in here," he said.
In 1966, Saint Francis Medical Center established four beds for the Coronary Intensive Care Unit, the first such unit in southeast Missouri. That is when Saint Francis started monitoring patients with EKGs, and in the hospital, CPR training and treatment became available. Saint Francis nursing staff were instrumental in training of cardiac intensive care and cardiac catheterization laboratory work.
"There is more to be done," Talbert said reflecting on his career. "The main objective is for the patient to be able to function. My advice to patients is not to give up just because they are older. They can survive and thrive at any age."
Saint Francis Healthcare System is guided by our Mission to provide a ministry of healing, wellness, quality and love inspired by our faith in Jesus Christ. Founded by Franciscan Sisters in 1875, our priority remains the same: serve all who enter with dignity, compassion and joy. Serving nearly 713,000 people across Missouri, Illinois, Kentucky, Tennessee and Arkansas, our focus is on patients' outcomes, experience and value.