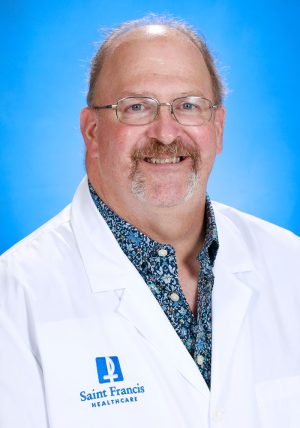 Accepting New Patients!
Specialties:
ElectrophysiologyCardiologyHeart

211 Saint Francis Drive
Suite 15
Cape Girardeau, MO 63703
573-331-3333
Get Directions
Medical Center Map
515 Maple Valley Drive
Farmington, MO 63640
573-760-7920
Get Directions
Download provider contact data (.vcf)
Review this provider on
"Be more concerned with your character than your reputation, because your character is what you really are, while your reputation is merely what others think you are" - John Wooden

"I was sad I had no shoes until I met the man with no legs" - My father
Board Certification
American Board of Internal Medicine, ABIM Subspecialty in Cardiovascular Diseases, ABIM Clinical Cardiac Electrophysiology
Medical Education
1987 - Kirksville College of Osteopathic Medicine, Kirksville, MO
Internship
1988 - Dallas-Ft. Worth Medical Center, Grand Prairie, TX
Residency
1991 - Methodist Hospitals of Dallas, Dallas, TX
Fellowship
1995 - University of Chicago Hospitals, Chicago, IL
1994 - Alton Ochsner Medical Institutions, New Orleans, LA
Care Philosophy
"My goal is to treat my patients as I would want my family to be treated."
Clinical Interests
Catheter Ablation of Complex Heart Arrhythmias
Device Therapy of Congestive Heart Failure, Including Pacemakers and Defibrillators
Evaluation of Syncope (Fainting)
Risk Assessment of Sudden Cardiac Death (Cardiac Arrest)
Conditions Treated
Atrial fibrillation
Ventricular tachycardia, SVT, slow and fast heart rates
Cardiac arrest
Congestive heart failure
Syncope (fainting)
Inherited genetic diseases affecting cardiac conduction
Procedures and Treatments Offered / Performed
Pacemakers
Defibrillators (ICD), both implant and follow-up
CRT devices (therapy for congestive heart failure)
Complex ablations
Electrophysiology studies
Personal Details
"I have 2 daughters, Naomi and Matilda. Naomi works and lives in NYC after graduating from Wesleyan University in Middleton, CT. Matilda attends University of Notre Dame in South Bend, IN."
Other Experience
Clinical research in numerous trials, advancing the field of cardiac electrophysiology. National Speaker's Bureau and consultant for multiple device companies.