Saint Francis Medical Center launched Pink Up™ in 2010 to raise awareness of breast cancer in southeast Missouri. Our fundraiser, which runs concurrently Breast Cancer Awareness month every October, encourages Cape Girardeau residents to "pink up" their homes and businesses in support of the cause.
Teaming Up To Take Down Cancer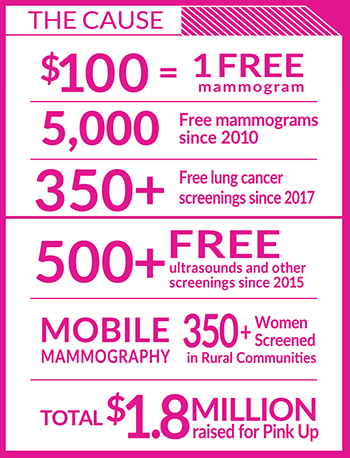 Support us and the community in the fight against breast, lung, colon and prostate cancer. Proceeds provide free cancer screenings to those in need throughout our region.
Womancare provides education, examinations, testing and breast cancer surgery and treatment through its state-of-the-art equipment. Our dedicated multidisciplinary team of radiologists; surgeons; medical, gynecologic and radiation oncologists contributes to the clinic's ongoing success in fighting cancer.
Our state-of-the-art Cancer Institute gives cancer patients a fighting chance. Our advanced radiation oncology equipment, chemotherapy and imaging technologies, cancer research and team approach offer healing and hope.
We are dedicated to expanding Pink Up™ to raise awareness for the top four cancers that affect our five-state service region: breast, lung, colon and prostate.
Saint Francis Healthcare System Offers:
Stereotactic breast biopsy, a minimally invasive way to biopsy a breast abnormality identified through mammography. Benefits include improved accuracy, faster recovery, minimal pain and discomfort, lower cost and lower complication rates compared with surgical biopsy.
Free screenings and an increased ability to detect lung cancer in the early, more treatable stages for people aged 50-77, current smokers, those who have quit within the last 15 years, those with an extensive history of smoking, those who have not had a CT chest scan in the last year and those at risk of additional medical conditions.
PSA screening for prostate cancer to make a diagnosis at an early stage. The American Urological Association (AUA) guidelines recommend a discussion with your primary care provider regarding prostate cancer screening for:

Men aged 40 to 54 who are at higher risk for prostate cancer (African-American men and men with a family history of prostate cancer)
Men aged 55 to 69
Men older than 70 who are in excellent health with a life expectancy of greater than 10 years

Advanced surgery and sophisticated therapeutic radiation treatments to treat various forms of colon cancer. Over the past 15 years, the incidence of colon cancer has decreased – primarily because more people are undergoing screenings.
Learn more on the Cancer Institute page or by calling 573-331-3000.
Contact
Each $100 raised provides a free mammogram for a Cape Girardeau woman who cannot afford this important screening. For more information, call 573-331-5209.