Daughter Thankful for Hospice Care During Father's Last Days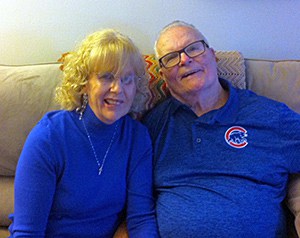 Julie Baker Caplan is very thankful for the help she and her father received from Saint Francis Hospice during her father's last days. Richard Baker, 88, had heart problems and declining health so Julie decided to bring her father from his assisted living facility to her home on Saint Francis Hospice care.
"There wasn't anything we could do for him but to keep him comfortable," Julie said. Hospice workers came three or four days a week to help with personal hygiene, Richard's chest tube, pain control and to provide a friendly face.
"He loved the nurses too," Julie said. "They were good to him." Julie says the nurses were very diligent with her father's pain medication and got it changed when needed. "If you can't keep them well, keep them comfortable and at peace in their environment," she said.
The Hospice nurses made sure they had plenty of supplies, medication and care. One nurse came to Julie's house at 9 pm one night with medication to make sure her father was comfortable.
Richard was on Hospice for two weeks. He passed away at 4:30 am on October 4, 2018 less than two weeks from his 89th birthday. The nurse stayed with the family until 9 am the day Richard passed.
"To die with dignity is what we all want for our loved ones," Julie said. "Saint Francis Hospice nurses assured my father of that blessing."