Family Grateful for Hospice Care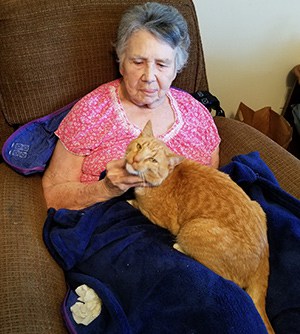 Hospice can be a scary word for families when caring for a loved one. However, Hospice services at Saint Francis Healthcare System offers ongoing at-home care to patients, their families and so much more.
Laverne Kackley suffers from dementia, Parkinson's disease and has had three strokes. Her family chose in-home Saint Francis Hospice care so Laverne can live out her final days in the comfort of her home surrounded by those she loves. She has been on Hospice since February 2018. Normally, Hospice is recommended when the patient is six months or sooner from death, but Laverne has responded well in her current environment.
A Hospice nurse comes twice a week on Tuesdays and Fridays for about an hour at a time to care for Laverne. An aid also visits twice a week on Mondays and Thursdays to bathe Laverne and pamper her by painting her nails. A chaplain visits about once a month. Laverne's family says the Saint Francis Hospice program gives a personal touch. "They treat Mom as if she's their mom," said Vickie Winberry, Laverne's daughter.
Putting their mother in a nursing home was not an option for the family because they wanted her to feel at home and comfortable. "They provide any medical supplies Mom needs, and, of course, medicines. No money comes out of Mom's pocket," said Darlene Kackley, Laverne's daughter.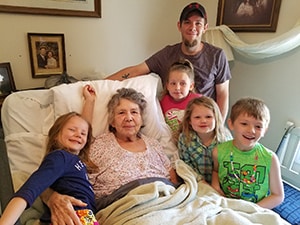 The Hospice program not only provides medical care and supplies, but emotional support as well. "If we are worried about something, we talk to the nurse and she gives us the facts of what she has seen from her experiences and it calms us down," said Vickie. "The chaplain comes once a month. He even brings his guitar and sings. Mom loves to hear him sing."
"It's the best care she can get," said Darlene. "They come to us. We don't have to take Mom out to the doctors." Hospice does more than just take care of the medical needs of the patient; it takes care of the whole family. "Even if we just need a hug they will supply that," Darlene said. "Someone who will sit there and listen, encourage, tell us we're doing a great job with Mom."
She says the mental and emotional support has really helped the entire family and taken so much stress off them. "All the people at Hospice are true angels," said Vickie. "They are a gift from God."
"If it wasn't for Saint Francis Hospice, Mom wouldn't be here in her own home," said Darlene. "By donating to Hospice you're helping their efforts to give to another family. If a person is out there looking for a cause to donate to, this is one. They've given Mom a better life."