Jenny Nelson Loses 165 Pounds with the Help of Fitness Plus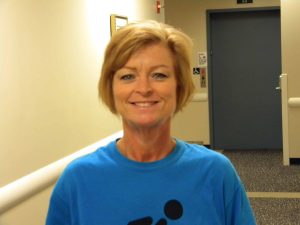 Jenny Nelson, 48, loves to exercise, and it shows. Since resolving to make the most of her Fitness Plus membership about a year ago, she has lost 165 pounds through spinning, swimming and running nearly every day.
She wasn't always so dedicated, however. "For about five years, I went to the gym, but I never gave 100 percent," she says.
Her upcoming 50th birthday inspired her to get healthy, and the fun offerings and friendly people at Fitness Plus made it easy to stay on track.
"I swam a marathon at the gym by swimming at least a mile every day. I use the running track, especially during the winter or when it's really hot outside. I met a lot of people at the gym who really encouraged me. When I did the indoor triathlon, they stayed and cheered me on."
She plans to improve her triathlon time next year – and keep working out with her new friends in the meantime.