Our Mission in Action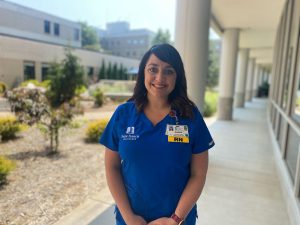 When it comes to patient care, our nurses strive to live out our Mission to provide a ministry of healing, wellness, quality and love inspired by our faith in Jesus Christ every day. Jeff Darnell of Advance, Mo. experienced this when he came to Saint Francis Medical Center after a fall broke his hip.
Freak Accident
"He had kind of a freak accident. He fell at least six feet onto his hip, and broke it," recalls Registered Nurse Andrea Tripoli, RN, BSN. "The running joke was that his phone in his pocket broke his fall. It could have been much worse."
Following his accident, Darnell came to the Level III Emergency and Trauma Center at Saint Francis to receive treatment. He was later admitted to the Orthopedic/Surgical floor, where staff focused on keeping him comfortable and controlling his pain. The ultimate goal was to avoid surgery, if possible.
Providing Comfort
"The fact everyone took care of everything I needed at the time and tried to get my pain under control as quickly as possible was remarkable," Darnell says. "Specifically, Nurse Andrea was awesome. She always made sure she was there when I needed assistance and that I was comfortable through the whole process."
Darnell acknowledges he has always received great treatment at Saint Francis, and thanks to Andrea and her team for making his hospital stay as pleasant as possible.
Exemplary Service
Tripoli has been a nurse at Saint Francis for 11 years and details how important patient care is to her. "Holistic care is important. You have to look at the patient as a whole and, along with medical treatment, provide reassurance, spiritual support, emotional support — whatever they need to help them heal," Tripoli says. "I enjoy working in a place that supports and values that because it is so important to me and to a lot of people."
Thank you, Andrea, for your hard work and dedication to provide patients exceptional care and living our Mission.